Parishes
Diana Clark
4 February 2008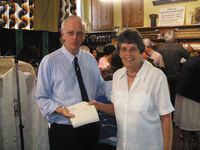 On December 30, 2007 the parish archives was blessed and opened in its own building. This event also coincided with the 125th anniversary of the first Mass celebrated in the present St Mary's Church which was built in 1882, the third since 1844.
The parish archives had been housed in a small room in the presbytery which was bulging at the seams. This created a fire risk for the 125-year-old, two-storeyed wooden presbytery, and was not good stewardship of our precious historical articles.
In 1920 the parish library was moved into a purpose-built brick building. This presented an ideal place to put the archives, as it was already relatively fire-proof, and an engineer's report stated that it was still sound.
And so the long task of moving the archives began. Blood, sweat, and skinned hands, along with days of cleaning, packing, and lifting took place, but eventually all the hard work came to fruition.
What an ideal time to open the archives building. Fr Antoine Garin was Nelson's first parish priest and was at the opening of the present church in 1882, although by then he was quite frail.
At the opening of the archives building Marist archivist, Brother Gerard Hogg, presented St Mary's archivist, Diana Clark, with a linen hand towel which belonged to Fr Garin. The towel would be well over 120 years old, and will be added to the Father Garin memorabilia—including two chairs, a silver cake plate (for his 70th birthday), an ornate fretwork framed document for his 77th birthday, diaries, letters and ledger books dating from 1844.
It was also an historical event for Brother Gerard Hogg, Diana Clark, and Denis Moriarty, whose great-great-grandparents James and Eliza Hagen were among Father Garin's first parishioners.
St Mary's archives holds an impressive amount of information including 150 boxes of collected material, sacramental registers from 1844, hundreds of photos, old vestments, parish newsletters, minutes from parish and school organisations, school admission records, orphanage records, articles from churches that have now closed—to mention just a few, and a vast amount of memorabilia which includes a very thick leather strap once used at St Joseph's School. The school records and photos have also been moved in with the parish archives—this sharing of resources has put everything historical under the one roof.
Last year 24,000 names of parishioners who have received sacraments in the parish were entered in alphabetical order onto computer. These date from 1844 to the present day, and is still a work in progress.
Photos: Top right: Marist archivist, Br Gerard Hogg, presents Diana Clark with a linen handtowel which belonged to Fr Garin.
Top: cousins Br Gerard, Diana Clark and Denis Moriarty, deputy principal of Garin College.