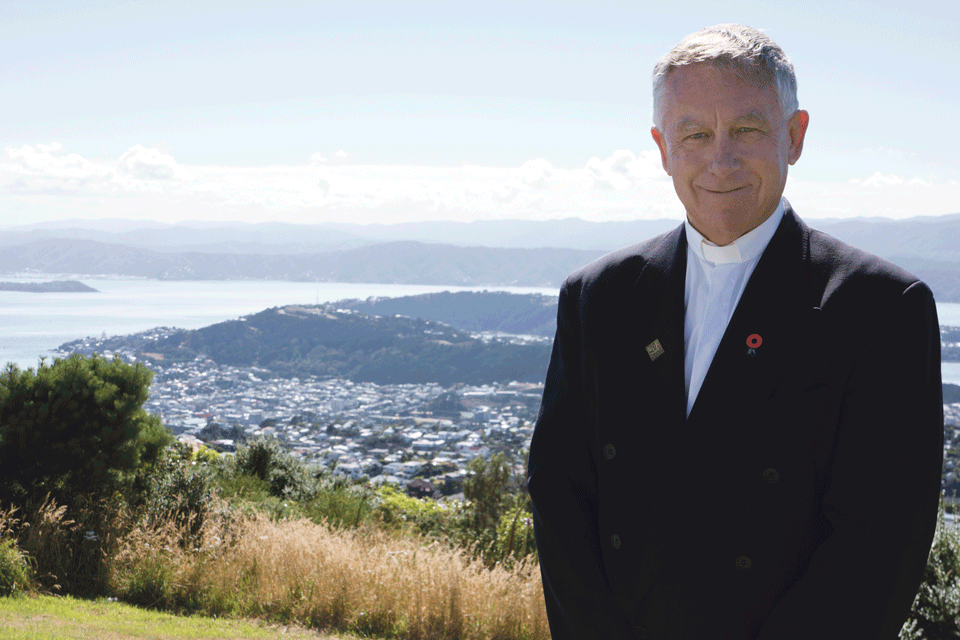 February 2015
News
Pope Francis' decision to appoint 20 new cardinals from many parts of the world has shown a clear indication he wants the Church to be seen as universal and he wants to hear from all parts of the world.
He has made a point many times about going to the edge, to the peripheries, and he has certainly done that in these appointments.
The fact there are two new cardinals – Archbishop John Dew from New Zealand and New Zealand and Bishop Soane Patita Mafi of Tonga – chosen from two small seemingly insignificant Oceanic countries, shows he wants to include New Zealand and the Pacific Islands in this outreach and desire to hear from peoples from all over the world.
Archbishop John has attended many Synods in Rome, he has been the President of the New Zealand Catholic Bishops conference as well as being President of the Federation of Catholic Bishops of Oceania. He will be the fourth Archbishop of Wellington to become a cardinal.
'For me, it's a heightened call to serve,' he says. 'This appointment has reminded me of the fact that when I was ordained a deacon in 1975 I was told 'once a deacon, always a deacon' – meaning that our role is always serving the people of God.
'It is important to mention that in Pope Francis' official letter to the new cardinals he has reminded us all to serve in humility ‒ "the appointment is not the crowning of a career or a badge of honour".
'It is an honour but an honour for the Church in New Zealand and one that I do receive with humility. This is because of the significance of the role and the fact that it's so closely associated with the gift of faith.
'In terms of my own role as Archbishop of Wellington, I hope nothing will change and that I get around the Archdiocese as much as possible. I want to meet people and be available for the changes underway here and for our lay pastoral leaders. I still see my main role as the Archbishop of Wellington.'
There are two key issues Archbishop John wants to represent from New Zealand and Oceania.
'One is the whole question of climate change within the Pacific Ocean area – and Cardinal Mafi in particular will be able to offer much on how the Dioceses of CEPAC (Episcopal Conference of the Pacific) are affected by climate change on Pacific Island communities,' he says. 'The second key issue I will be speaking out about and highlighting is the problem of human trafficking in this part of the world.'
A cardinal is essentially an adviser to the Pope and is often put on various committees that give advice for several areas of Church life to congregations in Rome. He is called on to advise the Pope, and he will do this when attending Consistories or Synods in Rome as a member of a Vatican Congregation or Council.
'One of the main roles is to be present at a conclave in the election of a new pope. That brings incredible responsibilities and a need to know as much as possible about other Cardinals around the world so as to be ready for a papal election. At this stage I have no idea of how often I will be required in Rome. Possibly I may be appointed to some committee which will require me to go there from time to time.'
This month all existing Cardinals will meet in Rome on 12 and 13 February. The topic of these meetings will be reform of the Roman Curia – the administrative body of the Holy See and the central governing body through which the Pope conducts all Church matters. The new Cardinals will also go to those two days of meetings.
The following day, 14 February, is the actual Consistory where the Pope gives the red hat to each of the newly appointed Cardinals, a cardinal's ring, and he informs them of the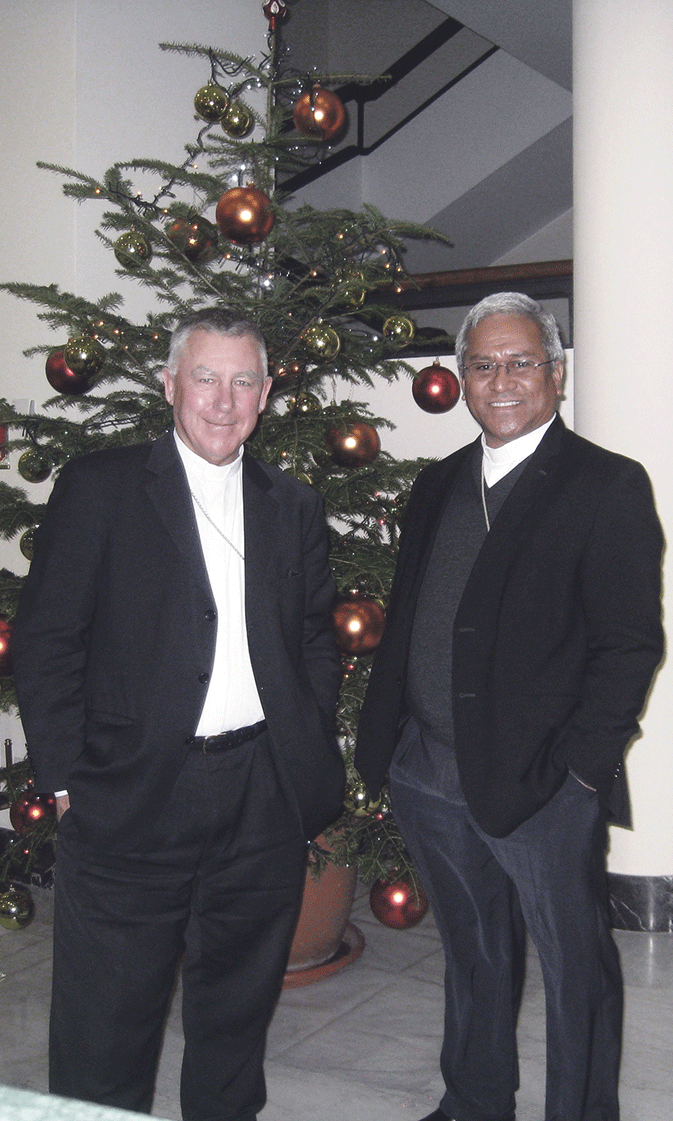 Titular Church in Rome he has designated to each of them ‒ cardinals are nominally parish priests of Rome and are designated a church as their parish. On the afternoon of the Consistory, the new Cardinals will each be allotted a time to meet with other Cardinals and people from Vatican departments to get to know one another.
On Sunday 15 February the new Cardinals will celebrate Mass with Pope Francis.
In the Archdiocese of Wellington there will be no change to Archbishop John's role – he remains the Archbishop of Wellington and continues to live in Wellington. And there is no change in his role within the Church in New Zealand, although people may look to him more often because of the Cardinal title and connection to the Vatican.
'From a personal perspective, there have been incredible blessings and privileges that have been mine within the priesthood over nearly 39 years.
'These include serving in St Joseph's parish in Upper Hutt during the late 1970s, working in the Diocese of Rarotonga for three years, the five years of youth ministry work and Cook Island chaplaincy, to my four years doing formation work at the Seminary.
'All of these things have been great blessings and have taught me great lessons to serve as a priest and now as a Cardinal.