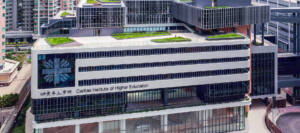 WelCom November 2023
Hong Kong authorities are on the verge of granting official approval for a new Catholic university to be established.
This initiative has been announced several times by Bishop Stephen Chow, who was recently appointed a cardinal by Pope Francis.
According to the Headline Daily newspaper, the Caritas Institute of Higher Education, an educational institution of the Catholic Church in Hong Kong, primarily known for nursing education, has received the green light from the Council for Academic and Professional Qualifications Accreditation. This body has certified that it meets all the necessary requirements to elevate an institution of higher education to university status.
Now, only the final step remains, which requires formal approval from the government, led by Chief Executive John Lee.
If this permission is granted, it will be the first Catholic university in the region and not limited to the field of healthcare professions, as the Caritas Institute of Higher Education is. The new institution will be named the University of San Francisco.
The establishment of a Catholic University in Hong Kong is a project that Cardinal Stephen Chow had previously been involved in when he was the local leader of the Jesuits before becoming a bishop. Initially, the idea was to build a new university from the ground up in Fanling, an area near the border with mainland China. However, it was officially rejected by authorities due to urban planning considerations. Therefore, upon becoming the Bishop of Hong Kong, he revived the project and requested the transformation of the Caritas Institute of Higher Education into a university.
Source: Zenit