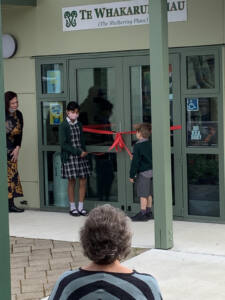 WelCom December 2022
The newly refurbished library building at St James' School in Palmerston North was blessed and opened in September under the name of 'Te Whakaruruhau – The Sheltering Place'.
Mons Brian Walsh blessed the building, which was opened by acting principal Christine Cosgrove. The eldest and youngest pupils Jahziel Eldhose and Samuel Curry cut the ribbon.
The old library was demolished in 2019. By contrast the new library building is innovative, bright, spacious, more accessible and opens onto the school's sacred space and Mary Garden.
Christine Cosgrove said the school board is committed to literacy and has invested in book purchases and resourcing. She acknowledged the support of the Diocese of Palmerston North and its property manager Susan Zentveld for overseeing the project.
Nicci Smith, St James' learning and literature resource manager, said less than a third of New Zealand schools had adequate library space. She said she was 'grateful for the wonderful new space, and resources'.
The school encourages learners with recreational reading, timetabled visits to the library and senior leaders who offer service as librarians during break times. The library uses the Accessit library management software. Its streamlined day-to-day administration tasks enable teachers to prepare lessons and they can remotely access the schools' library catalogue online via their laptops. Nicci Smith, also a member of the local ReaLM group (Reading and Literacy in Manawatu) ensures St James' learners benefit from visiting authors in the area.