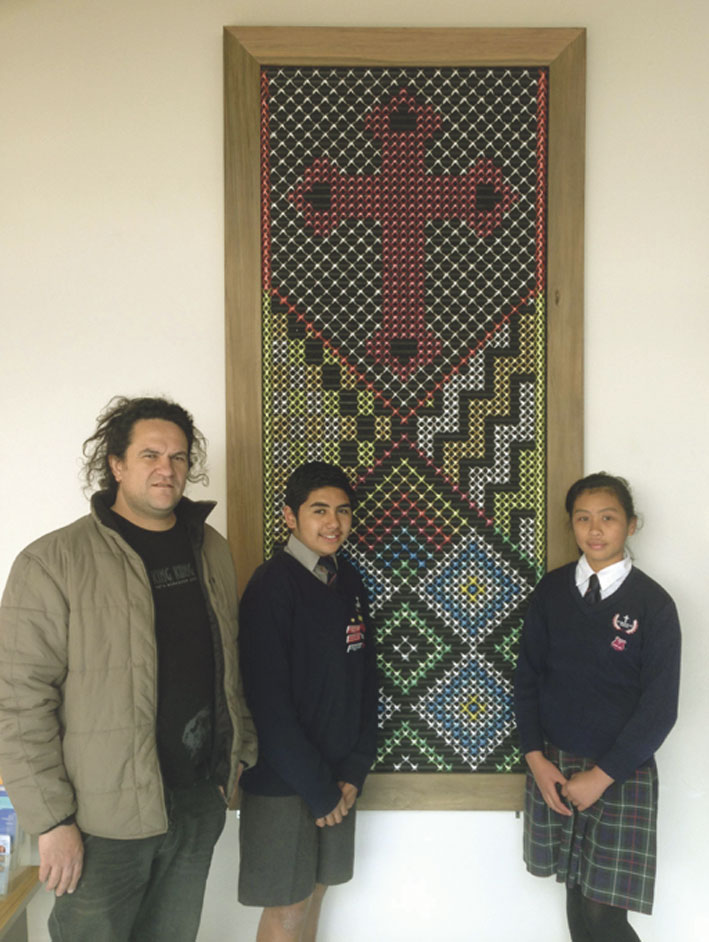 Schools
October 2013
Pat Rhodes
St Marcellin School in Whanganui's Gonville parish has two new tukutuku panels to connect students with their whakapapa. The foyer of the administration block is home to the first which parish priest Fr Des Levins bless in 2 September. It was then unveiled by head girl and boy Georgia Renata and Pati Leo.
Aaron Gardiner designed the panel and worked on it with the students for six weeks. Every student had some input.
The cross represents Christ and is surrounded by stars depicting the heavenly world and all who have gone before. The poutama (steps) are the stairway to heaven while the chevron shapes near the bottom represent the strength and bends in the Whanganui River. The diamonds are the flounder or Jesus feeding the multitudes.
The second panel was unveiled at a community breakfast at the school and erected in the school's courtyard on 27 September. This panel represents the Pacific nations and their connection to the school. Boys from the Pasifika Group danced in front of the panel.
In the second panel the cross represents our Christian background with the water of life flowing into the kava bowl. Each ray from the cross represents a Pacific nation with the word of the Lord at the centre proclaiming his love for the children.
The school is indebted to the Ministry of Education Student Achievement Function programme for funding support for these projects.