NEWS
Cecily McNeill
7 February 2011
The archdiocese is introducing a new, simpler way of levying parishes to better support priests and lay pastoral leaders. An explanatory letter is being sent to all parishes.
Throughout the archdiocese parishes support active and retired clergy (including the bishops) from the first collection which is the responsibility of the Clergy Trust Fund.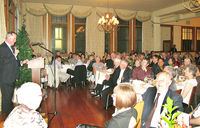 In recent times the first collection is one third of the total parish collection. The archbishop sets the levy on the second collection to support lay pastoral leaders and contribute to his administration costs and his national commitments.
The archdiocese believes this new approach will simplify the system for supporting clergy and lay pastoral leaders as well as meet diocesan commitments to national Catholic organisations and activities.
The review arose because the existing levy has not met the cost of lay pastoral leaders for the last four years.
The current approach would not be adequate to cover the needs of retired clergy either.
On investigation the current scheme was found to be confusing, complicated and did not achieve its aims. Nor was information on how the collections and levies were used at archdiocesan or parish level clearly and consistently available to parishioners.
The new system will see a set of levies applied to total parish income. There will be separate levies for clergy and bishops (formerly the first collection), and for lay pastoral leaders and for national commitments (formerly the archdiocesan levy on the second collection). There will be a single percentage figure for each levy to be reviewed annually.
There will be more details on the new levies in the March issue of Wel-com.
Image: Archdiocesan general manager Paul Bayliss addresses diners at a fundraising dinner which Archbishop John Dew hosted before Christmas.