WelCom October 2019:
Cardinal John Dew, Archbishop of Wellington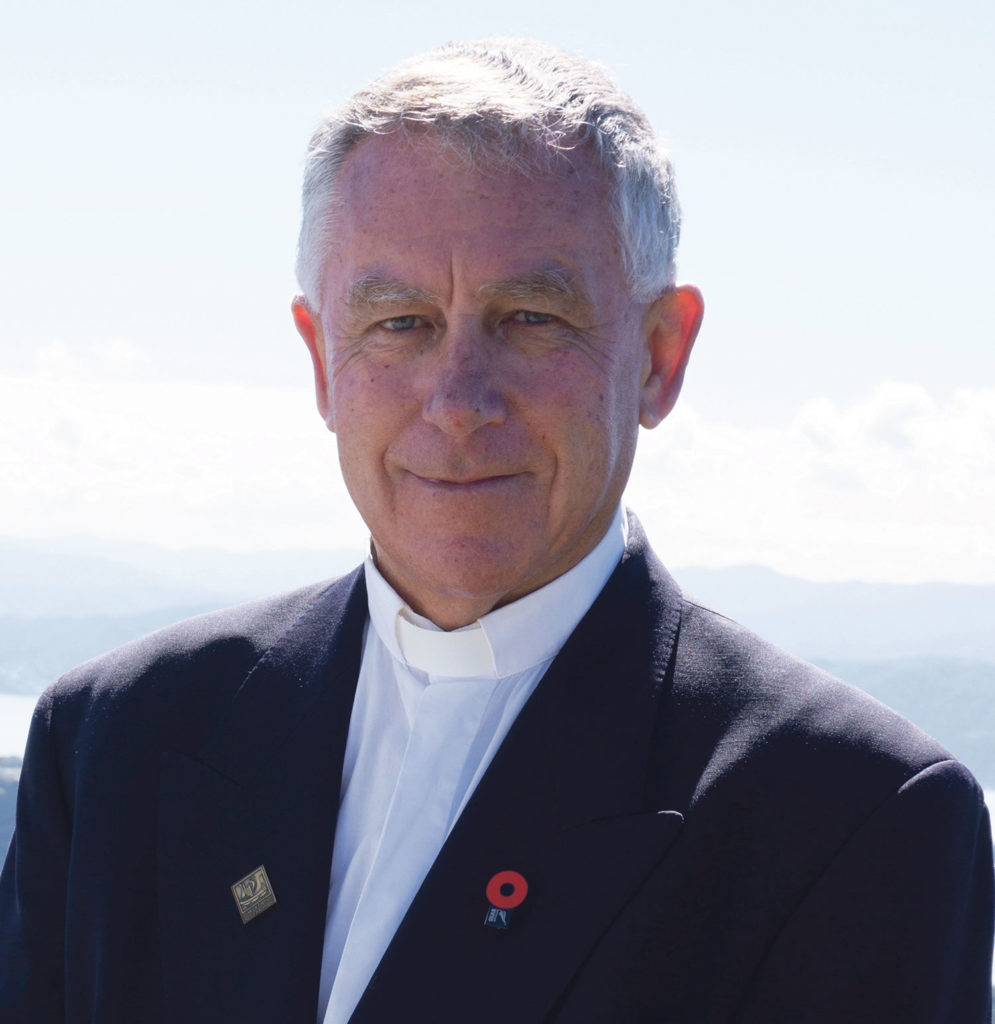 At about this time last year the New Zealand Bishops were informed that our ad limina apostolorum visit was to take place in October this year. We have had plenty of time to prepare, as a year ago we were given the date on which we would meet with Pope Francis, Monday 28 October.
I had planned before the ad limina visit that I would travel to the Western Front in France and visit the grave of my grandfather who was killed in battle about five weeks before the end of the First World War. My own father never knew his father, and I have always wanted to visit Gréviellers Cemetery where he is buried, which for our family is a place of history and meaning. Going to Rome for the ad limina this year has given me the opportunity to do that.
As it has turned out, I will now go to Rome first for the Consistory of 13 new Cardinals on 5 October, then make my visit to France and go back to Rome. There, all the New Zealand Bishops will gather to meet with Pope Francis. This is the first time we have made an ad limina visit with him, and obviously the first time our New Zealand bishops will have met him as a group.
Traditionally these ad limina apostolorum visits (which means to the threshold of the apostles) happen every five years, but the last time our Bishops made such a pilgrimage was in 2011 when Benedict XVI was the Pope. It has been a longer period in between visits because of the heavy schedule of Pope Francis and because he has made changes to the way he meets members of Bishops Conferences.
During this time, we will pray and celebrate Masses at the tombs of Saints Peter and Paul. In previous ad limina visits ‒ for me 1998, 2004 and 2011 ‒ these have been very prayerful and privileged times of prayer. We will also visit different offices of the Roman Curia to discuss matters that affect both the universal church and our dioceses. We have at least 14 visits already scheduled over those days. One of the most important for us will be the visit to the Congregation for the Causes of Saints where we will discuss the progress of the Cause of Suzanne Aubert.
When we meet with Pope Francis, we will speak with him about the challenges and opportunities that exist in our respective dioceses, in Aotearoa New Zealand society, and the hopes and concerns we have as part of the universal church. During his pontificate Pope Francis has encouraged an openness and freedom to discuss all matters that affect the lives of Catholics, all our brothers and sisters, and the earth – our common home.
We expect to dialogue with Pope Francis about sexual abuse in the Church and inform him of the processes and steps that have been taken in Aotearoa-New Zealand to deal with these issues. We think issues such as climate change, living the gospel joyfully and radically in today's world, the changing role of the laity and of ordained ministers (synodality and collegiality), the plight of refugees, the Christchurch attack, poverty and homelessness will also be raised.
The Australian Bishops completed their ad limina in June this year and have told us how easy it was to raise and discuss important and challenging matters with Pope Francis. They found the ad limina visit to be 'emotional, frank and encouraging'.
We bishops see this visit as an opportunity to share our realities and hopes with Pope Francis, to be inspired to faithfully live the gospel and to gain new insights, knowledge and experiences that will enable us to continue to lead the Catholics of Aotearoa New Zealand and to build the kingdom of God in our land.
Please pray for us all as we make this trip to Rome, the 'threshold of the apostles'.
+John
---
New Zealand Catholic Bishops – Ad Limina 2019
The New Zealand Catholic Bishops will visit the Vatican in October this year on their ad limina visit. They will meet with Pope Francis to give an account of what is happening in the New Zealand Catholic dioceses.
An ad limina visit is a formal trip made together by all bishops from a single region or Catholic bishops' conference to discuss with the Pope issues specific to their region. It is separate from other visits bishops might make to the Vatican, such as to attend a synod. In some large Catholic nations, bishops from different regions make separate ad limina visits. Because there is a growing number of bishops' conferences around the world, an ad limina visit now usually happens every seven years instead of every five years.
The New Zealand Bishops' last ad limina visit was in 2011 where they met with Pope Benedict XVI.