WelCom July 2020:
Fr Trung Nguyen welcomed
Emma Dodsworth and Thom Saywell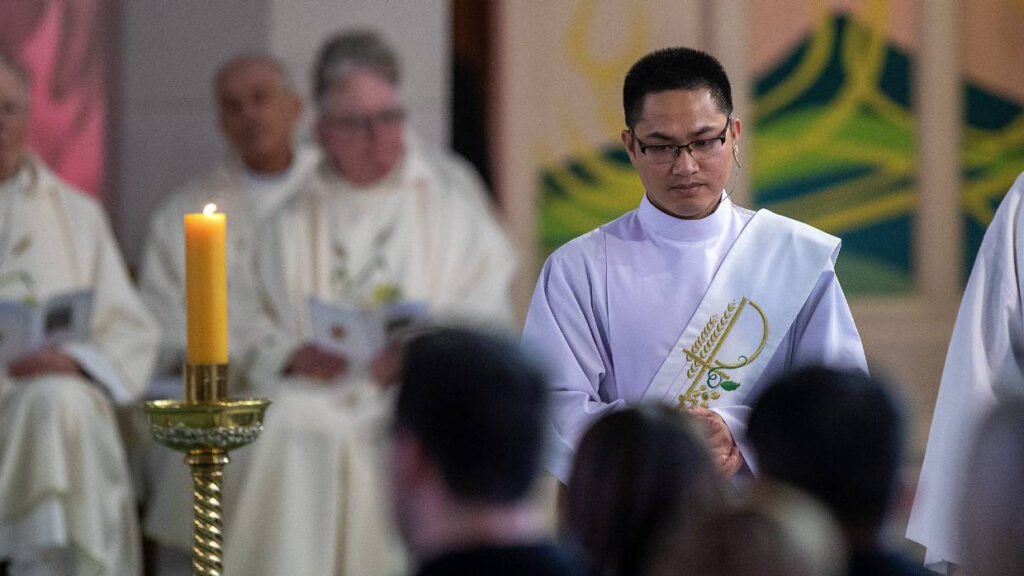 Palmerston North has welcomed a new priest to its diocese following the ordination of Trung Nguyen at the Cathedral of the Holy Spirit on Saturday, 6 June.
Mary Sutton delivered the welcome and described how Trung had first arrived in the Palmerston North Diocese in May 2012, 'where he took a huge step into a different culture with an enthusiasm that has typified his attitude to this day.' The 31-year-old Trung, originally from Vietnam, has trained for six and a half years.
'His dedication to his vocation was evident from day one, rising every morning at 4.30am to study and pray. Trung continues to be a hope-filled and humble servant leader. His quiet determination and trust in the Lord is evident to all who meet and know him. Even in the small ways of daily life, he serves and helps gladly where he sees a need,' Mary said.
Trung's ordination had been postponed from April 18, due to Covid-19 Level 4 restrictions. Taking place during Level 2 meant there were still restrictions in place, with only 100 people allowed to gather inside the Cathedral, and 100 more watching the video link in the Diocesan Conference Rooms.
Cardinal John Dew, Archbishop of Wellington, led the ordination ceremony. During his homily Cardinal John acknowledged all those unable to be physically present, particularly Trung's parents and family. Trung has family in seven countries and three of his brothers are training to be priests in India, Colombia and the United States.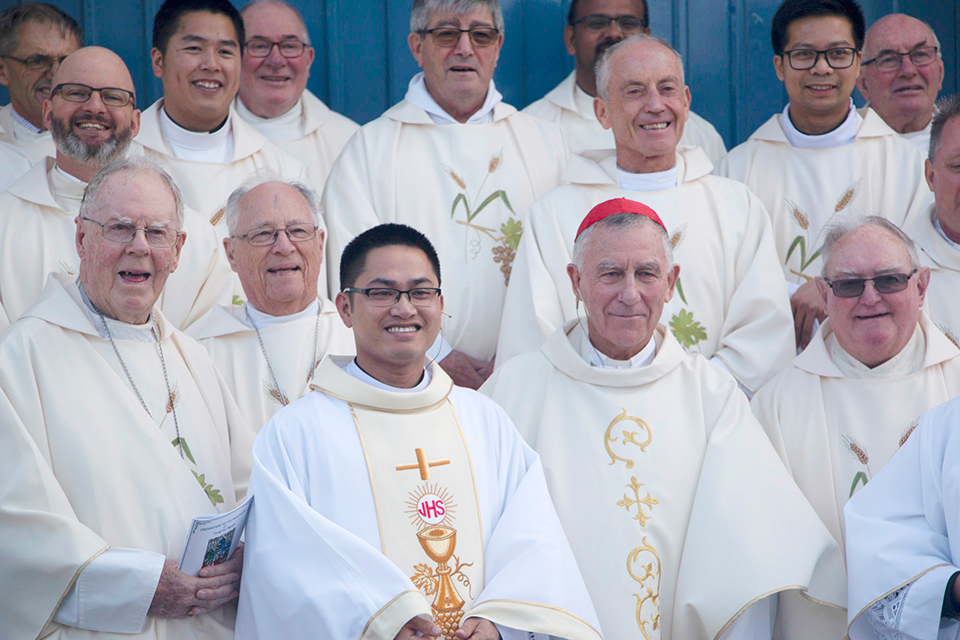 'We assure you that Trung is loved and cared for and will continue to be loved and cared for as he serves this church of Palmerston North as a priest.
'We know Trung that you and all of us wished to come here on April 18, for you to be ordained a priest, to pray with you and for you and to celebrate – but Covid-19 intervened and that was not to be. When we take up the call of Jesus to "follow me", that following may not always be in the way we want it.'
Cardinal John said being a priest is making the choice to follow Jesus every day, to sum up the courage to follow, 'sometimes where you would rather not go, and do things you would rather not do'.
Speaking after communion, the newly-ordained Fr Trung said, 'Eight years ago, the Diocese of Palmerston North rolled a Vietnamese dice – when it stopped rolling my face came up. I don't know what you think about that price, but here I am today.'
Trung thanked God for calling him to New Zealand and he thanked everyone present – physically and virtually – to support him on his special occasion. He said he was happy to be ordained but was sad none of his family from overseas were able to attend because of Covid-19 travel restrictions. He paid an emotional tribute to his parents in Vietnam and his siblings around the world, and to Mark Richards, the Diocesan Pastoral Director who sadly passed away in December 2018, 'who would have loved to be here, and who always offered me enthusiastic support'.
He also thanked all in the diocese who he has stayed with and had contact with over the past eight years. Trung said being a priest was a joyful service, and he enjoyed seeing a smile on people's faces. 'Your love for priesthood and your prayers has been a great encouragement for me to persevere on my journey towards this day. I know you will accompany me into the future as well.'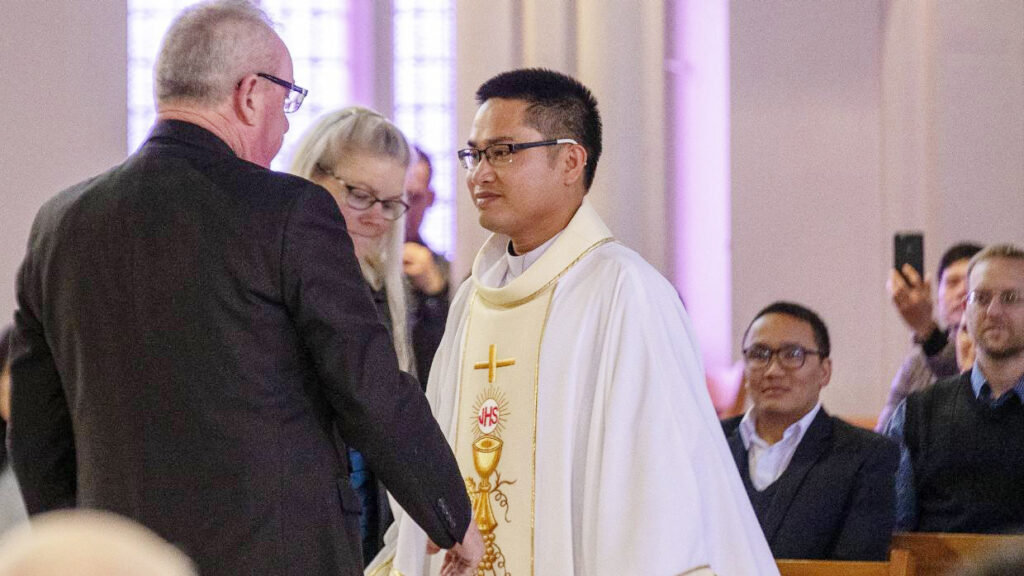 Trung asked everyone to continue to pray for him 'to follow the good shepherd closely, the one who comes not to be served by to serve.'
Originally from a city called Vinh, about 300km south of Hanoi, Trung has been living in New Zealand for eight years. He started helping his parish in Vietnam when he was 12. He later studied a philosophy degree. He came to Palmerston North to train to be a priest, but first had to learn English at the English Teaching College. He then moved to Auckland to train at the Good Shepherd College and had a one-year placement in Hastings. He returned to Palmerston North last November.
Trung said in Vietnam there could be 500,000 Catholics in one diocese, about the same as all Catholics in New Zealand. He said because of the population in Vietnam, a priest doesn't go to see people, but in New Zealand a priest could deal with people in a more personal context.
The ordination, was streamed online with over 3000 views and can be viewed at this link: https://www.youtube.com/watch?v=Bmpqfnar6sM&t=4500s