WelCom December 2018:
Saturday December 15, 7pm: Wellington Cathedral of St Paul.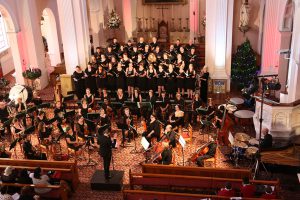 Despite the Metropolitan Cathedral of the Sacred Heart closing in July, the Cathedral Choirs have continued their work ensuring music for the weekly Masses as well as concerts around the Wellington area. This December the Cathedral Choirs and Orchestra, augmented by singers from around the Wellington area, combine to bring you a Christmas feast of the auditory kind. The programme is a great mix of contemporary and traditional, including a new carol commissioned by Wellington composer Luka Venter. Held in the vaulted spaces of Wellington Anglican Cathedral of
St Paul come along and let the music inspire the Christmas spirit.
Tickets cost $35/$20 and are available at: noel-soundsofchristmas.eventbrite.co.nz
Door sales are limited so please book ahead to avoid disappointment.