WelCom November 2020
Michael Fitzsimons
Many countries in Oceania are living in an emergency situation and facing a convergence of multiple crises such as climate change, economic instability, a global pandemic and conflict, says a new Caritas report on Oceania.
The report, entitled Towards new horizons, State of the Environment for Oceania 2020 Report, says in its introduction that governments have responded in a variety of ways to the global pandemic, with severe impacts on Oceania.
'Restrictions on international travel and trade produced negative economic consequences, with many places reliant on tourism and remittances from family members overseas. Humanitarian aid and supplies were disrupted and complicated due to travel restrictions and Covid-19 precautions.'
However, the report notes the pandemic showed 'how quickly nature can recover when given space, and how quickly governments and institutions can act in a crisis.'
The Report, issued annually by Caritas Aotearoa New Zealand, assesses the impact of environmental issues on people in the region. The assessment is based on stories and data received by Caritas from official sources, as well as Caritas' staff, partners and associates in the region.
Five categories
The Report's findings are organised into five categories:
• weather;
• coastal erosion and sea level rise;
• food and water;
• offshore mining and drilling; and
• finance availability to deal with climate change.
Caritas' assessment of extreme weather impacts in Oceania remains at severe, based on the unprecedented bushfires in Australia; the impact of Cyclone Harold on countries such as Solomon Islands, Vanuatu, Tonga and Fiji; and highly unusual weather events in many places. Extreme weather patterns are a new normal, says the Report.
"We must use the present crisis to attend to the needs of the poorest, including our Mother Earth and future generations."

Towards new horizons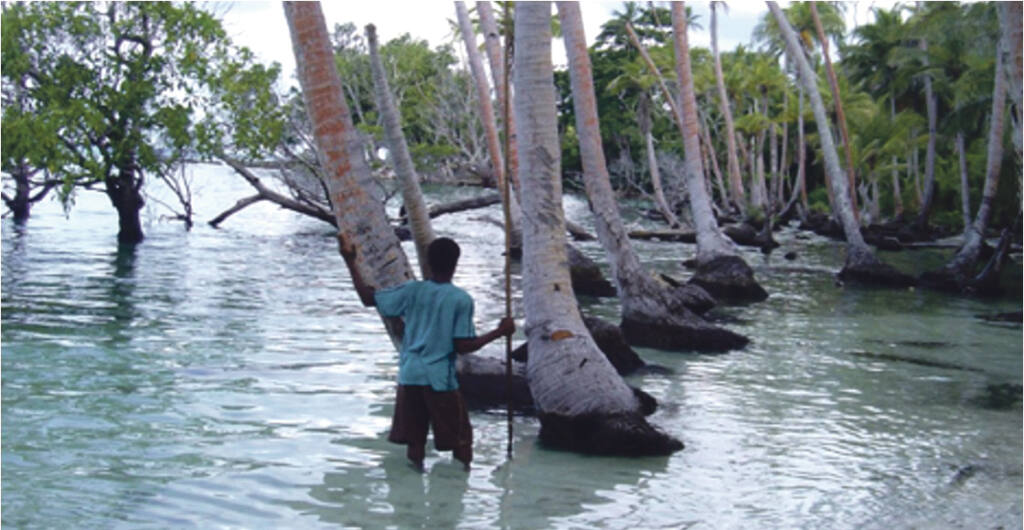 On the issue of coastal erosion and sea-level rise, Caritas has raised its assessment from high to severe, reflecting concern from Caritas members in Tonga, Fiji and Papua New Guinea in particular. Fiji is looking to relocate more than 40 coastal villages in coming years.
Caritas' assessment of environmental impacts on food and water supply remains at high. Both unusual weather events and resource extraction continue to impact poorer populations. The impact of the Covid-19 pandemic has highlighted the vulnerability of some poor urban dwellers compared to people who live close to the land and food supplies.
Caritas has raised its assessment of the impact of offshore mining and drilling from moderate to high, highlighting the stress that continued efforts to mine the seafloor is placing on coastal peoples.
Finally, the Report concludes that the finance available for vulnerable communities to adapt to climate change is woefully inadequate. 'There is still only a trickle of what many frontline Pacific communities need to survive,' says the Report.
Recommendations
The Report's recommendations include the rebuilding of economies 'that serve people and the planet, that value and support local resilience, food production, ecosystems, and communities.'
It calls on Governments to remain committed to stronger Nationally Determined Contributions (NDCs) under the Paris Agreement by the end of 2020.
The Report says climate finance must prioritise the poorest communities, and empower local communities to access funding. It calls for the banning of further seabed mining and exploration and says that the earth must be allowed to restore healthy ecosystems. Growing and distributing food sustainably needs to be a priority.
Conclusion
The Covid-19 crisis has thrown the world into turmoil and reminded us of our vulnerability, and interconnectedness, says the Report.
'Governments and international bodies must protect people's health and minimise the fallout from Covid-19, while continuing to step up efforts to address urgent climate mitigation and adaptation. Neither can the need for a green transition be used as a smokescreen to plunge human exploitation to the ocean depths.
'We must use the present crisis to attend to the needs of the poorest, including our Mother Earth and future generations. It challenges us to re-think our relationship to the earth, to each other, and our notion of "economy", which means "household management". Our common home is in need of our care.'
Towards new horizons was launched in October through a global webinar with speakers from across Oceania who have been living through the climate emergency and were able to talk from direct experience.
The full report and more stories of impact are available online at: www.caritas.org.nz/state-environment