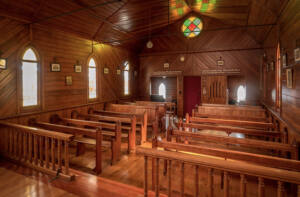 WelCom August 2023
Catherine Gibbs
St Joseph's historic church in Pāuatahanui is undergoing a facelift. A new St Joseph's Church Stewardship Committee has been formed from within St Theresa's parish Plimmerton, with the vision to preserve and resource this special place ensuring its future for generations.
Over many years undergrowth beside SH58 had kept this historic gem hidden from view.
Now it sits up on the hill catching the eye of thousands of travellers on the new Transmission Expressway and major roundabouts for those heading to other parts of the region.
We will celebrate 150 years in 2028 and before that there is a work programme which volunteers are ticking off. We are hoping readers might know of some old native-timber wooden pews, which might help furnish the church properly. Some of our old pews are rotting and have seen better days.
If you know of any chapels or small country churches around 100 years old that are no longer in use and might have some rimu or matai timber pews similar to the ones pictured please contact Alan Fleming at email: abcc@fleming.kiwi or ph: 027 407 2881.
St Joseph's is a church and churchyard with spiritual, heritage, and cultural significance to the Pāuatahanui district and St Theresa's Catholic Parish Plimmerton, within the Archdiocese of Wellington.