The uniforms were immaculate, the nerves were raw and the tension palpable among the staff and parents. The 61st O'Shea Shield was in full swing.
Students from the 17 colleges of the Palmerston North and Wellington dioceses gathered over the weekend of 5 and 6 May.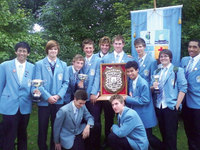 After months of preparation and nerves they had come to compete in a wide range of disciplines – debating, religious drama, scripture. To get ready they needed to become familiar with scripture and Church documents. To compete they had to be willing to give up their weekend to join in and be prepared to be publicly critiqued by experienced judges.
The competition was the reason for gathering, but the O'Shea Shield is so much more. It is an opportunity to meet new people and make new friends.
This is a time to gather as a wider Church community to celebrate the gift that young people are and offer to us all.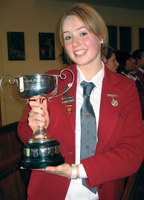 Sacred Heart College, Lower Hutt, hosted this year's contest in a magnificent manner with every event going like clockwork. Mass, with the chief Presider Archbishop John, was held at Ss Peter and Paul's Church and the prizegiving followed.
It was a praise-filled celebration of Eucharist, full of the passion and enthusiasm that had marked the competitive events in a respectful and prayerful manner.
As the results and awards were read out and received it was wonderful to note that a large number of schools were represented.
Sacred Heart College, Lower Hutt, were the runners up to St Patrick's College, Silverstream.
It is great to go to the O'Shea Shield without the emotional attachment that comes with your child or school being involved.
I can truly say it is inspiring; every young person I met was respectful, interested and interesting. They were all a credit to their families and their schools.

The photos show (top): The winners: Silverstream's O'Shea Shield team – back: Michael Parreno-Villa, Joe Walklin, Dion Fitzgerald, Charles Lloyd, Michael Delaney, Michael Herder (captain), Roneil Kintanar, Neale Mullholland, Sam Carson, Sofara Aiono. Front: Alex Orr, Steven Jasionowicz.
Silverstream last won the Shield in 2000. The team's coaches included Messrs Dan Bidwell, Des Boyle, Peter Browne, Mike Cole, Terry Cole, Ms Jeanette Duffy, Miss Tanya Henderson, Mrs Libby Kirton and Ms Phillipa Whiteford. In winning this Shield the Silverstream team also won the Catherine McAuley Cup for Scripture Reading; the Bishop Owen Sneddon Memorial Cup for Religious Drama and the St Catherine's Cup for the Best Negative Debating Team.
(centre) Bridget Scanlon of Sacred Heart, Lower Hutt, who won the
(centre left) The winning team for the religious questions section of the O'Shea Shield, Anna Aldridge, Helena Brown and Rachel Doohan of Sacred Heart College, Napier.

They answered questions put to them on the document Ecclesia in Oceania impressing the judges with their application of the synod's Proclamation on Evangelisation to their own personal lives.
Next year, Sacred Heart College, Napier, will host the O'Shea Shield.
The pic at right is Angharad Flynn, head girl of Chanel College, who won the oratory section.