NauMai September 2021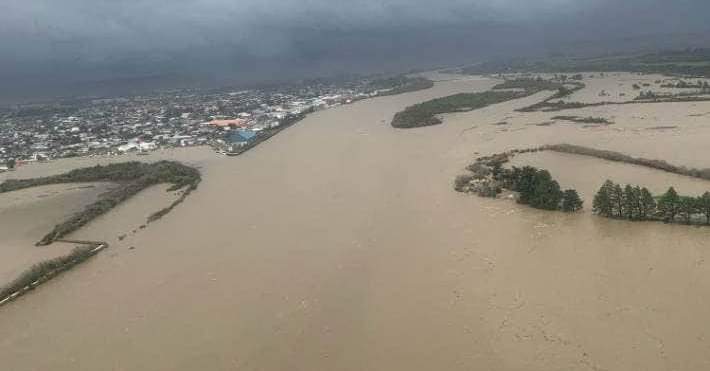 Catholics from around New Zealand have responded generously to the St Canice parish-relief flood in Westport following the floods in July, says parish priest, Fr David Gruschow.
'We have received over $15,000 for our flood-relief fund and the Tindall Foundation is set to make a further donation to help our community,' he said.
'The donations are being used to help those affected with day-to-day costs for various needs, such as power bills, petrol, rates and food. The most popular item has been grocery vouchers.
'Sr Lusiana Raratini, a Compassion Sister based here in Westport, and I have been visiting parishioners. Sr Lusiana has a good handle on who is in need of help – not just in our parish but also in the wider community.'
Following the floods more than 100 homes were declared uninhabitable and about 400 homes were yellow-stickered, meaning they could be habitable once repairs were done and they were cleaned up.
'People have been understandingly wanting to get their homes and properties repaired and remodelled and things were well underway until lockdown came into place. But several tradies who were here helping have had to return to their own places outside of the area. Many residents here are having to live in motels and caravans,' said Fr Gruschow.
'However, I really want to thank people for their overwhelming generosity, which has been great and has allowed us to respond to people's immediate needs.'
St Canice parishioner Elizabeth Minato says the donations from so many people to the parish relief fund have brought a lot of comfort to those affected.
'West Coasters are tight knit and stoic and this means people generally don't ask for help,' she says.
'The greatest effect of the flood has been to the hinenaro (spiritual and emotional wellbeing). Having someone else pay a power bill, tank of petrol or the rates has helped with general wellbeing. Thank you to all who have contributed.
'The parish fund in Westport is being used to help affected people, both non-Catholics and Catholics. It's a wonderful way to show unconditional love and empathy to everyone in our community. Fr David and Sr Lusiana are both stars,' says Elizabeth.
Elizabeth wrote the following poem just after the recent floods.
The Flood Stole Dreams
The flood stole land
like the colonialists
it took away
the owners' rights
to property
and access.
The flood stole dreams
it stole the unborn baby's clothes
the freezer full of food
the hours of preparation
and planning.
The flood stole land and houses
whitebait nets and gumboots.
It stole comfort and security
No-claims bonuses and excess.
It stole the spare car and lawnmower
the lawn and the garden.
It stole next year's crops and tractor
replacement cows and bobbys.
It stole Grandma's photo
and my old knitted jersey,
it stole the photo album and memories.
The flood stole from everybody,
some more than others
it stole our procrastination for flood protection,
the climate-change denial from our minds,
the 'I told you so' from our lips.
It stole our dreams and aspirations,
from some
it stole everything.
– Elizabeth Minato, parishioner, St Canice, Westport.