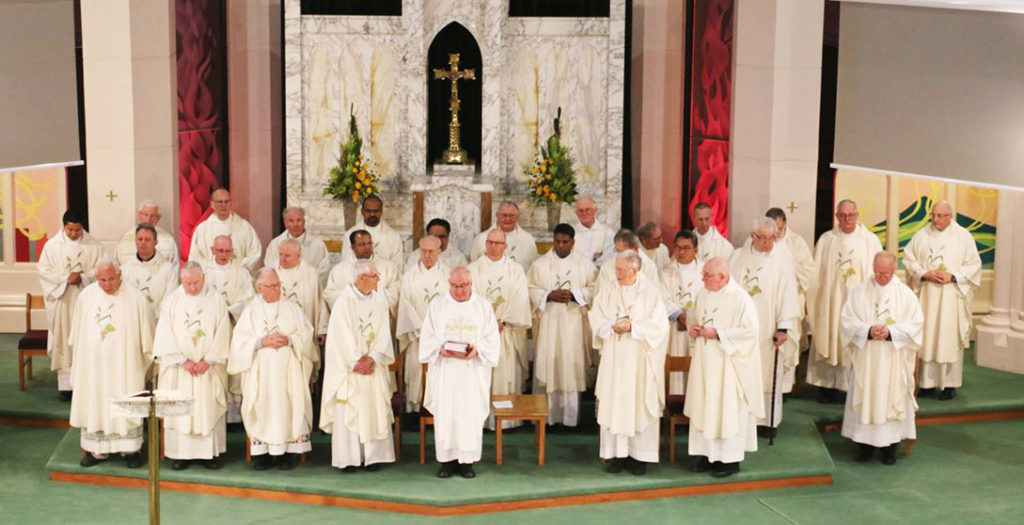 WelCom November 2019
Emma Dodsworth
The Diocese of Palmerston North celebrated its annual Jubilarians' Mass at the Cathedral of the Holy Spirit on Wednesday, 2 October.
Jubiliarians present were Bishop Owen Dolan (65 years), Fr Anthony Williams (60 years), Monsignor David Bell (50 years), Fr Karaitiana Kingi sm (50 years), and Fr Barry Scannell sm (25 years).
Other jubilarians celebrated but unable to attend the Mass were: Fr Max Palmer (Kopua, 60 years), Fr Michael Lloyd (55 years), Fr Bill Casey (RIP, 50 years), Fr Peter Fahy (50 years), Fr Neal Wilson sm (50 years), and Fr Nicho Verkley (Kopua, 45 years).
In his homily Fr Barry Scannell, of the Catholic Parish of Hastings, talked about the call to priesthood, 'a call we all hear but which comes differently to everybody'.
'I believe God's call is there at the core of our being,' he said.
'Even in these days of scandal, confusion, and ongoing struggles in the Church, I am proud to be an ordained priest. I am proud to be a disciple of Jesus Christ. I still hear his call.'
He also discussed the core of what ministerial priesthood is about ‒ spiritual intimacy with God and his people.
'We need to encounter God in prayer and with love in Jesus Christ. We share God's intimacy with His people in all the sacraments, but especially in the Eucharist.'
Fr Barry finished by thanking parishioners and friends who were present.
'All that we do is underpinned by your love, generosity and support,' he said. 'All of us as priests are so grateful. I hope in some small way we have been able to bring the unfathomable and inexhaustible love of Christ to each of you.'