WelCom December 2021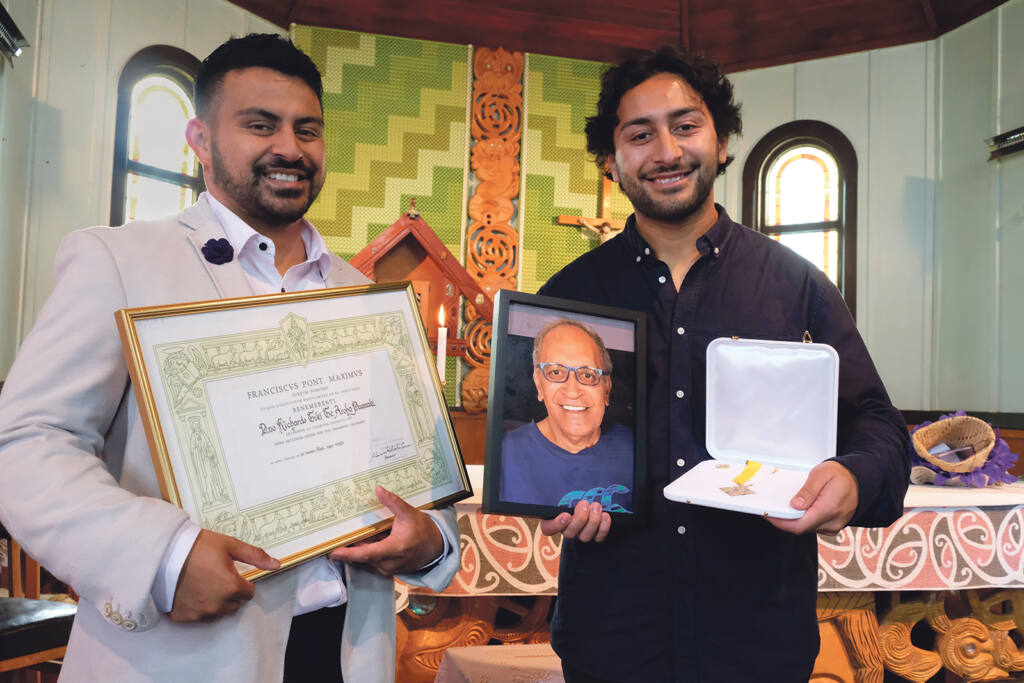 The many and generous accomplishments of Richard Puanaki for education, Māori culture, music and Katorika Māori were further recognised last month with a posthumous papal award. A Benemerenti Papal Medal was presented at Mass at St Theresa's Church on Richard's Tawhiti a Maru Marae, Wairoa.
Rīhari Tiki te Aroha Puanaki died in Wairoa, on 20 April 2021, after a long battle with cancer.
Attended by whānau and friends from Wairoa, Hawke's Bay, Taranaki, Palmerston North and Wellington, the celebrations began with a whakatau that welcomed home taonga from Te Whetu o Te Rawhiti.
Celebrating Mass was one of Richard's relatives and friends Pā Karaitiana Kingi sm, with parish priest Fr Michael O'Donnell sm.
Pā Karaitiana drew a connection to the power of the Holy Spirit with the tewhatewha he was holding (photo 2) as he described Richard's support and leadership in education, Māori culture, Katorika Māori and Miha Māori, devotion to his faith and family, his many teaching appointments, including at Joseph's Māori Girls' College, Hato Pāora College, St Joseph's School, Wairoa, and his rich legacy of music compositions, including well-known and widely sung Ka Waiata Kia Maria.
Pā Karaitiana presented Richard's papal medal and certificate to Richard's sons Henare and Matau (main photo). After Mass whānau performed Kapa Haka at the hakari in the hall on the marae (photo 3).
Richard's legacy will be further enhanced with the recent creation by his iwi of an educational scholarship. Photos: Annette Scullion