Wellington
6 November 2012
Two women in the archdiocese have been awarded Papal medals in the past couple of months.
St Patrick's, Paraparaumu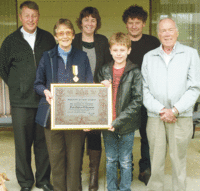 Archbishop John Dew presented Kathleen Beaumont with the Pro Ecclesia et Pontifice Cross from Pope Benedict XVI during Mass at St Patrick's parish, Paraparaumu, on August 21, 2012 in recognition of Kathleen's 25 years as St Patrick's parish secretary as well as her care of the priests and seminarians.
Kathleen has made a valuable contribution to Saint Patrick's Parish.
Not only has she been instrumental in the running of the parish, she has also provided a wide variety of service from help with budgeting and shopping for elderly parishioners, to providing new parishioners with much-needed information on their arrival.
In his homily Archbishop John thanked Kathleen and all who use their gifts to live out their baptismal call in Christ. Parish priest Michael McCabe also thanked Kathleen for her support and on behalf of the parish congratulates Kathleen and her husband Tom on this special pontifical honour.
The cathedral parish of the Sacred Heart

In the cathedral parish of the Sacred Heart, Ruth Garland received a Benemerenti Medal from parish priest Fr James Lyons. Mrs Garland was presented with the medal at the Vigil Mass on Saturday September 15.
The medal recognises Ruth's generous service to the cathedral parish in liturgical and social ministry.
She had shared her time and talents with others over a long period of time and in spite of increasing ill health.
Ruth's children and grandchildren proudly shared Ruth's special moment and many Brooklyn parishioners also attended in appreciation of her contribution to them in earlier times.
Ruth was well known for her work in setting up The Resource Centre in Brooklyn which caters for people of all faiths and walks of life.
Such was its success in meeting the needs of the community that it is still providing help and support to those in need to this very day.
During her time in Brooklyn, Ruth worked tirelessly on behalf of handicapped children and only relinquished this demanding role with IHC after the onset of ill health.
In addition, Ruth took on the role of patient advocate at the Catholic Vincentian Home and hospital which she did for a number of years.
The cathedral and Brooklyn parishioners extend their gratitude for Ruth's enormous contribution over so many years.
Images
Top: Kathleen Beaumont with daughter Debra Beaumont, her partner Gerry Kenna and son Aiden Kenna and husband Tom Beaumont. Parish priest Fr Michael McCabe is on the left.
Bottom: Ruth Garland with cathedral parish priest Fr James Lyons.