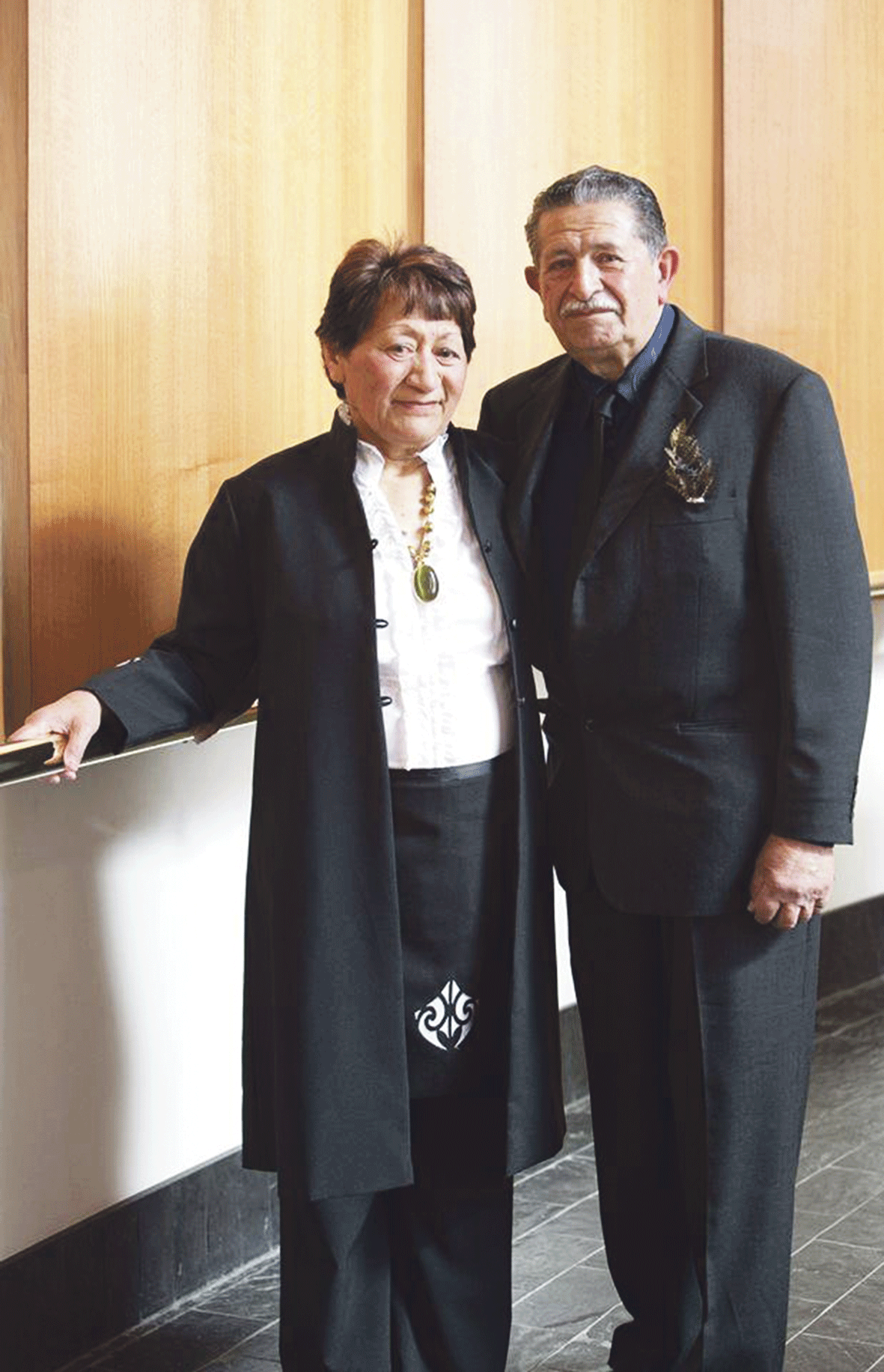 February 2015
News
Towards the end of last year kaumātua Janet Paku of Napier heard she would be receiving an award for her lifetime of service and devotion to the Catholic Church. But she didn't know the recognition was to be from Pope Francis. Sadly, 75-year-old Janet passed away on 25 November before she had been formally notified by Bishop Charles Drennan she would be receiving a Benemerenti Medal from the Vatican in the New Year.
Rev Deacon Danny Karatea-Goddard and his wife Maru presented the medal, pin and papal diploma to Janet while she was lying in state at St Thomas More Church in Napier before she and her family returned to her birthplace at Tolaga Bay on the East Coast.
Janet had been closely involved with the Diocese of Palmerston North from childhood. As an adult she gave decades of faithful service to the Church in Hawke's Bay helping and bringing together various Māori Catholic communities across Napier and Hastings. She was involved with St Patrick's parish in Napier for over 50 years. She distributed Holy Communion, organised prayer groups and fundraising, and provided transport to ensure other parishioners could get to church. More recently she was closely involved with integrating Napier and Hastings parishes.
We are just absolutely amazed at such an acknowledgement from Pope Francis, says Janet's daughter Maakarita Paku. 'On reflection I remember Mum really devoted herself to the Eucharistic services and she dedicated a lot of time up here to catechism – both in the community and especially with her own family. She was also very involved with whaka aroho – a travelling prayer group around this district.
'Mum really looked forward to this especially in her later years. When we were younger she was also very closely involved with another prayer group called ahi kaa. It was like a rosary group that travelled each fortnight to someone's house with a statue of Our Lady. As a girl she boarded at St Joseph Māori Girls College and was very involved in religious studies there and then supporting the school as an Old Girl in later years.
'As a family we are really, really happy for Mum to have received this kind of acknowledgement and we are humbled. But there is sadness too because Mum wasn't there to enjoy the recognition. For her, I know this would have been the highlight of her life's achievements.'
Janet also received a Queen's Service Medal in 2009 for her work with the Department of Corrections, which she joined 40 years ago as a nurse. She became something of a social worker and helped to establish the Department of Corrections' first Māori Focus Unit at Hawke's Bay prison in the 1990s.
Maori recognition
Janet was one of 16 kaumātua from around the Diocese of Palmerston North who were honoured with a Benemerenti Medal this New Year. They have all been recognised for their outstanding service to the Māori Apostolate, Māori Catholic communities locally, regionally and nationally. They are all kaumātua who have led and catechized their respective communities for more than 40 years.
To date there has been no formal recognition by the Diocese of these persons and indeed these faithful elders have given a great part of their lives to Māori in the Church. Many of them have navigated through the era of the old Latin Mass, the Māori Mission and numerous pastoral changes and have stayed faithful to being Māori, being Catholic and serving their local eucharistic, iwi and wider communities.
This is somewhat of a first as Janet Paku was the first kaumātua recipient to be recognised by Pāpā Werahiko, Pope Francis.
The other 15 recipients each received letters of notification over Christmas. They are yet to receive their medals, which are to be conferred separately over the next three months. They are:
Mrs Minna Mary Clair, St Peter's – St Theresa's, Wairoa
Mrs Theresa Mary McNabb, St Peter's – St Theresa's, Wairoa
Mr Joseph Broughton, St Thomas More, Napier
Mrs Heni Mamaeroa Henderson, St Thomas More, Napier
Mr Tamaterangi (Tom) Rei Paku, St Mary's, Taradale, Napier
Mrs Janet Patricia Paku, St Patrick's and St Thomas More, Napier (deceased, award presented at tangihanga)
Mr Herman Koko, The Immaculate Conception, Paki Paki, Hastings
Mrs Eva Wright, St Joseph's, Dannevirke
Mrs Mary Anne Kerewini Sanson, Hāto Pāora – Hāto Petera, Feilding
Mr John Haami, Māori Pastoral Care Holy Family and St Mary's, Whanganui
Mr Henare Tauwhakaiti Ngaia, Hōani Pāpita, Normanby
Mr Raymond (Ray) William Edwards, Hōani Pāpita, Normanby – Hawera
Mrs Judith Coppin Ngā Pekanga Catholic Māori Society, Waitara
Mrs Raana Virginia Mareikura, Te Kiingi o te Maungārongo, Ōhākune
Mrs Kaye Dorothy Oliver, Te Kiingi o te Maungārongo, Ōhākune
Mrs Vera Whakaaronui Wilson, Te Kiingi o te Maungārongo, Ōhākune.