WelCom September 2022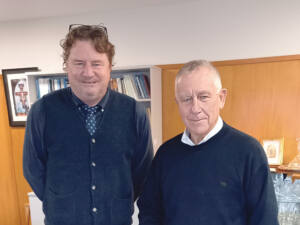 Cardinal John Dew met with Seán McMahon, Curator of Manuscripts at the Alexander Turnbull Library in Wellington, last month, to mark the transfer of the papers of Eileen Duggan from the Archdiocese into the Turnbull. Of Irish heritage, Duggan was a prominent New Zealand Catholic author as a poet and a columnist from the 1920s to the 1960s. She corresponded with many of the literary, political and Church figures of the period.
Her poetry is characterised by its religious dimension, which ranges from simple devotional writing, through poems that celebrate the sacredness of the created world, to more spare and sombre meditations on the moral implications of human actions.
Eileen Duggan was the first New Zealand poet to gain an international reputation; she was admitted to the Gallery of Living Catholic Authors in 1939, appointed an OBE in 1937, and made an honorary fellow of the Royal Society of Literature in 1943.
At her death in 1972 all papers were bequeathed to the Archbishop, Cardinal McKeefry. Now 50 years on it was felt that the records and Duggan's legacy would better be served by their becoming part of the national literary collection. Here it is hoped they will be more widely known and more accessible to researchers.
To learn more about Eileen Duggan go to: teara.govt.nz/en/biographies/4d23/duggan-eileen-may