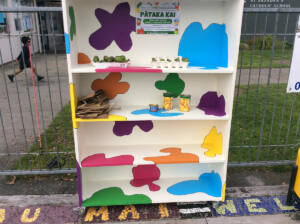 WelCom June/July 2023
Nā tō rourou, nā taki routou ka ora ai te iwi. With your basket and my basket we sustain people.
St Brendan's School in Heretaunga, Upper Hutt, is an Enviro School on a journey of learning about how to improve and give back to the school and church community.
The kura has a small group of senior students who lead the enviro projects at the school supported by classroom teacher Mrs Pullan.
The students have recently built a 'Kai shelf' to share fresh produce and food with their local community.
Starting back in Term 3 last year, their enviro-led project was supported by Katy Evans and Ray Sando, two adults in the community who taught the students basic carpentry skills.
A plan was drawn up and a trip organised to Mitre 10 to purchase materials. The shelf was built and painted one Friday at lunchtime.
'We invited our parish priest Fr Tony Kearns to visit and give a special blessing on the Kai shelf before placing it outside our school,' said Mrs Pullan.
'The Kai shelf is a place where our community can bring fresh produce and food to share and take what they need from it. The shelf is placed alongside the school fence, where the community can access it.'
This quote from Pope Francis sums up the new school project Mrs Pullan says.
'Every time we approach a person with charity, with love, we restore his dignity. The dignity of Christ, who comes with our gesture of charity.'