WelCom February 2020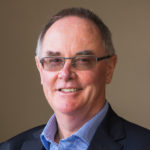 Paul Bayliss, General Manager for the Archdiocese of Wellington, will retire this month after ten years in the role.
The new General Manager, John Prendergast, will take up his position on 17 February.
Paul says the major highlight for him over the last decade has been the opportunity to work with Cardinal John Dew and support him in his leadership and in matters affecting the Church nationally.
'There have been a wide range of opportunities and issues to deal with, ranging from the transformation of our parishes through to clergy support and managing a constructive seismic response across the Archdiocese.'
It has been a very busy decade, says Paul. This has included actively supporting parishes in property and human resource issues, responding to the priorities established by the Archdiocesan Synods in 2006 and 2017, and helping parishes and the diocese meet the requirements of the new Financial Reporting Act.
Catholic education is a priority for the Church locally and nationally and achievements in this field have been very satisfying, says Paul.
'Revitalising our relationship with the New Zealand Catholic Education Office has been a source of satisfaction as was the process of integrating Catholic Schools Board Ltd into the Wellington and Palmerston North dioceses.
'We have also been on a major transformational journey in how the archdiocese is funded, culminating in our new Stewardship and Philanthropy Office. The Stewardship journey began back in 2009 when Cardinal John and I attended our first Catholic Institute Stewardship course in Australia.'
Paul counts as a highlight a 'spirituality for leadership programme, following Ignatian practice, when Cardinal John accompanied us on a Leadership Spirituality and Organisational Practice retreat led by Fr Michael Smith sj'.
Paul came to the role after a successful career at first in the public service and then as a General Manager in the banking industry. He has served on multiple company boards and trusts in the commercial and not-for-profit sectors.
He is looking forward to working on some future projects with the Cardinal from his home in Ōtaki and spending time with his new granddaughter.
'I would like to become more involved in my local parish and I think some travel might feature in there somewhere.'