Three men who have been acquitted on charges of breaking into and damaging the United States satellite base at Waihopai are now calling for the base to be closed down.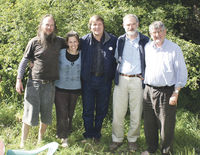 The three calling themselves Anzac Ploughshares admitted breaking into the Waihopai spy base near Blenheim, New Zealand, but used the defence before a jury in the Wellington District Court that they had done it for the greater good, that is, to save the lives of innocent people.
Australian Dominican Fr Peter Murnane, Sam Land from Whangarei and Adrian Leason of Otaki say, information gathered by the base has informed the war in Iraq.
Adrian Leason told Wel-com this month that the evidence was clear that electronic intelligence was running the war in Iraq.
'In 1998 the Americans used more munitions and cruise missiles in the first two weeks of the Desert Fox bombing campaign than in the whole first Iraq war which was just a holocaust of weaponry.
'The country was bombed to a standstill.'
When the war started five years later, 800 cruise missiles hit Baghdad in the first couple of days. All the information about the targets was gathered electronically through Waihopai and other Echelon listening posts around the world.'
The three were arrested on April 30, 2008 after they had cut through barbed wire fences and used a sickle to pierce the dome covering one of the two satellite dishes. They had then erected a shrine and prayed for the people who worked at the base and for those in Iraq who had been killed or had lost loved ones in the war.
Image: Fr Peter Murnane OP, second from right, Adrian Leason with his wife Shelley, left, with John Dear SJ centre andCommon Good editor Fr Jim Consedine of Christchurch at the Leason farm in Otaki last October.
Links: Domebusters hailed after acquittal http:// nz.news.yahoo.com/a/-/top-stories/6947372/domebusters-hailed-after-acquittal/
The Waihopai three acquittal http://www.scoop.co.nz/
http://www.stuff.co.nz/national/crime/3468003/Waihopai-3-walk-free