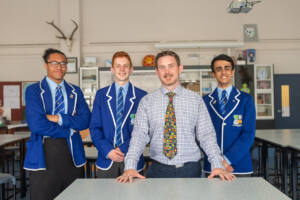 WelCom June/July 2023
Dr Doug Walker, Head of Science at St Patrick's College, Wellington, has won Te Puiaki Kaiwhakaako Pūtaiao – the 2022 Prime Minister's Science Teacher of the Year Prize, valued at $150,000.
His was one of five prizes, announced in May, awarded to top emerging and established researchers, science communicators and educators. Doug, who is President of New Zealand Association of Science Educators, won the award for building a large online student following of his experiments and NCEA exam paper tutorials and establishing a network of teachers providing online classes for akonga throughout Aotearoa.
Mike Savali, St Pat's Tumuaki –Rector, congratulated Doug on receiving the prize. 'I would like to congratulate Doug on behalf of our kura on this incredible achievement. Doug's passion for teaching science and his enthusiasm for sharing his love of science and making it real for his students is undeniable. Doug has also developed a number of NCEA webinars and YouTube science demonstration videos, which have supported the teaching and learning for students and teachers both regionally and nationally.
'The prize comes with $150,000 and Doug is hoping to use it to enable St Patrick's teachers to travel to learn from other kura, and to support students that might be lacking financial means to get involved in science trips or competitions.
'Congratulations Doug and thank you for keeping the faith and doing the mahi.'
Doug graduated with a BSc in Biology with first class honours at the University of Paisley, Scotland, before going on to graduate with a Masters of Education in Science from the University of Cambridge, United Kingdom.
His teaching approach is varied and fun. It has seen increasing numbers of pupils continuing with science during his 11 years at St Pat's.
'It is great to see a lot more akonga (students) pursuing science and getting excited by it,' he said.
When he noticed that many lower achieving students at his school were dropping science from year 11, he made changes. He introduced new general science subjects and a pathway to study and gain UE science in 2017. That involved developing a new general science course.
He also collaborates with other organisations such as Wellington Zoo, Te Papa and NIWA. This way he brings science out of the classroom and into real life.
Hands-on experiments, exciting demonstrations and getting students involved in making predictions are the cornerstones of his science teaching philosophy.
He also inspires students to engage with science beyond the classroom, leading field trips, promoting public lectures and competitions, bringing scientists into the classroom and visiting scientists and science educators outside of the classroom also.
As president of the New Zealand Association of Science Educators, he has built a large following for his online videos. These showcase explosive experiments and NCEA exam paper tutorials.
He said making science hands on with practical experiments and a little competition helped to engage students.
'I get a real kick out of developing new demonstrations in my spare time and building toys that will help engage students with their learning.'
Source: pmscienceprizes.org.nz