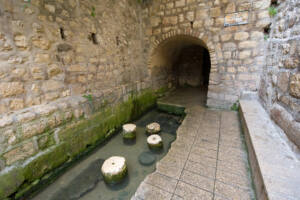 WelCom February 2023
The Pool of Siloam, the site in Jerusalem where the Gospels say Jesus healed a man born blind, will be soon open to the public.
The Israel Antiquities Authority, the Israel National Parks Authority and the City of David Foundation has announced that excavations first begun in the 19th century will be relaunched at the site, which is mentioned in both the Hebrew Bible and the New Testament.
Located today in the East Jerusalem neighbourhood of Silwan, the pool was first built in the 8th century BC. According to the Bible, King Hezekiah built it some 2,700 years ago as part of the Jerusalem water system. It was considered one of the most strategic areas of Jerusalem during the First Temple period.
Because of its importance, the Pool of Siloam was renovated and enlarged at the end of the Second Temple period, about 2,000 years ago. In addition to being a water reservoir, the pool became an important holy place for Jews and Christians.
It is a significant site for Christians because it is the place where Jesus restored sight to a blind person, performing the 'miracle of the man born blind'.
'Go, wash in the pool of Siloam,' were Jesus' words, according to the Gospel of St John. 'Having said this, he spat on the ground, made a paste with the spittle, put this over the eyes of the blind man, and said to him, "Go and wash in the Pool of Siloam". So he went off and washed and came back able to see' (Jn 9, 6-7).
Source: La Croix