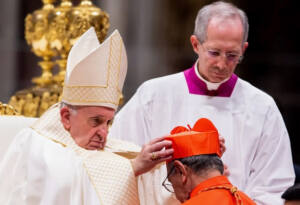 WelCom August 2023
In a surprise announcement, Pope Francis announced that he will hold a consistory on 30 September 2023 to create 21 new cardinals, 18 of them electors with the right to vote in the next conclave.
This is Pope Francis' ninth consistory, which means he has held one almost every year. According to a precedent established by Pope Paul VI, the number should not exceed 120, but John Paul II, Benedict XVI and now Francis have, on various occasions, all exceeded that number in creating new cardinals. With these additions, Pope Francis will on 30 September have brought the total number of cardinals with the right to vote in a conclave to 137.
Announcing his ninth consistory, Francis said referring to the new cardinals to be: 'Where they come from expresses the universality of the Church, which continues to proclaim the merciful love of God to all people of the earth.' Moreover, he said, 'the insertion of the new cardinals in the Diocese of Rome, manifests the inseparable bond between the See of Peter and the local Churches spread throughout the world.'
The new cardinals will include three Africans, two Asians and three Latin Americans.
Before Francis made the announcement, the College of Cardinals had a total of 222 members, of whom 121 are electors – that means under the age of 80 with the right to vote in a conclave. By the time he holds the consistory on 30 September, the number of electors will have decreased to 119; but with the addition of 18 new electors, Pope Francis will have brought the total number of cardinals with the right to vote in a conclave to 137.
Vatican statistics reveal of those 137 cardinal electors, nine have been created by John Paul II, 29 by Benedict XVI, and 99 will have been created by Francis. That means Francis will have created just over 72 per cent of the electors that could enter a conclave.
Source: America