WelCom August 2021
Pope Francis has again encouraged the ministry of New York-based, Fr James Martin sj, to LGBT persons and with words that could also encourage others in this work. He did so on the eve of the Outreach 2021 LGBT [lesbian, gay, bisexual, and transgender] Catholic ministry conference that took place by webinar on 26 June 2021, of which the Jesuit priest was the main organiser.
Some weeks ago, Fr Martin, an author and editor at large at the Jesuit magazine, America, had informed the Pope about the conference in a private mail and explained its purpose and then received a handwritten personal letter in Spanish from Francis, dated 21 June, expressing his encouragement and support for this work.
As is well known, Pope Francis tends to make personal phone calls to people, but what is less well known is his habit of sending personal, handwritten messages to people – usually in Spanish, and often in response to letters they sent him. Though he sometimes explicitly asks for the letter to remain confidential, he usually lets it up to the recipient to decide whether to make its contents known or not. Fr Martin, after consulting with persons who know the Pope, decided he could reveal its contents.
While the letter's first paragraph is familiar, personal, even humorous, and relates to Fr Martin's nephew who took the name Francisco for confirmation, the rest of the text refers to his outreach ministry to LGBT persons including through the 26 June conference, which the Jesuit priest had told him about.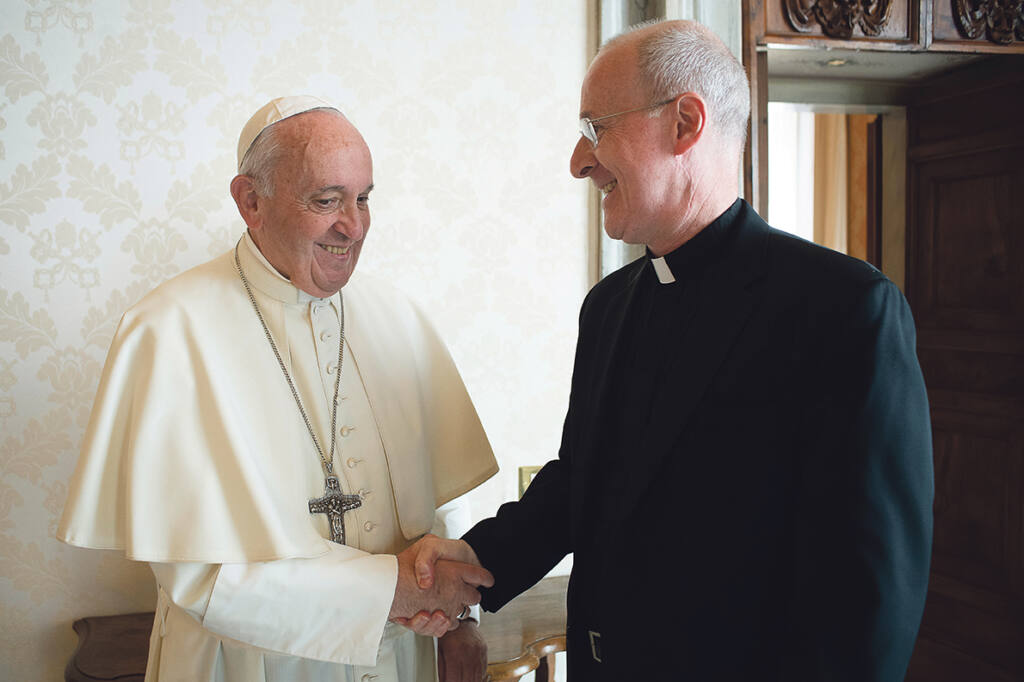 Francis is well informed of the work Fr Martin is doing. He has sought to encourage him in this ministry and for this reason, in a significant public gesture of encouragement and support, he received him in a private audience in the library of the Vatican's Apostolic Palace on 30 September, 2019.
His letter on the eve of the 26 June outreach conference can be understood in this same light. Addressing him as 'Querido Hermano' ('Dear brother'), Francis commends Fr Martin for all this work, saying, 'I want to thank you for your pastoral zeal and your ability to be close to people, with that closeness that Jesus had, and which reflects the closeness of God.'
He reminds him, 'Our Heavenly Father approaches with love each one of his children, each and every one [of them]. His heart is to open to each and every one. He is Father.
'I want to thank you for your pastoral zeal and your ability to be close to people, with that closeness that Jesus had, and which reflects the closeness of God.'
Here, the Pope emphasises yet again that God's love does not exclude. He made the same point to parents of LGBT children at the end of a public audience in the Vatican on 17 September 2020, when he told them, 'God loves your children as they are'.
In his letter to Fr Martin, Pope Francis repeats what he has said many times before, 'God's "style" has three aspects: closeness, compassion and tenderness. This is how he draws closer to each one of us.'
Referring explicitly to the Jesuit priest's 'pastoral work' of which the conference is a part, the Pope remarks, 'I see that you are continually seeking to imitate this style of God. You are a priest for all men and women, just as God is Father for all men and women.'
Significantly, Francis encourages Fr Martin to continue with this ministry. 'I pray for you to continue in this way, being close, compassionate and with great tenderness.'
As he concludes his letter, Pope Francis offers encouraging words to all those whom the American Jesuit is reaching through his ministry. He says, 'And I pray for your faithful, your "parishioners", and all those whom the Lord places [in your way], so that you may care for them, so that you may protect them, and make them grow in the love of Our Lord Jesus Christ.'
The Pope concludes his letter with the words: 'Please don't forget to pray for me. May Jesus bless you and may the Holy Virgin protect you. Fraternally, Francisco.'
Source: America, The Jesuit Review.
James J Martin SJ is an American Jesuit priest, writer, and editor-at-large of the Jesuit magazine America. In 2017, Pope Francis appointed Fr Martin as a consultant to the Vatican's Secretariat for Communications. A resident of Manhattan, New York, USA, James Martin was ordained a priest in 1999.