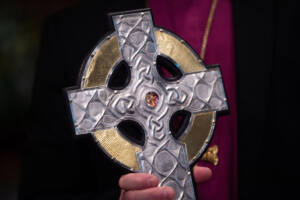 WelCom May 2023
Pope Francis has given King Charles III a relic of the True Cross of Jesus as a personal gift ahead of the King's coronation this month.
The relic has been incorporated into the Cross of Wales, a new processional cross presented by the King as a centenary gift to the Church in Wales. The Cross of Wales will lead the Coronation procession at Westminster Abbey on 6 May.
The Church in Wales described the gift from Pope Francis as 'a significant ecumenical gesture'. The Cross was blessed last month by the Archbishop of Wales, Andrew John.
Made from recycled silver bullion, the Cross was commissioned by King Charles when Prince of Wales to celebrate the centenary of the Church in Wales. It includes a shaft of Welsh windfall timber and Welsh slate. It is inscribed with words from the last sermon of St David: 'Byddwch lawen. Cadwch y ffydd. Gwnewch y Pethau Bychain': 'Be joyful. Keep the faith. Do the little things.'
At the centre of the new Cross of Wales is a relic of the True Cross, a gift from Pope Francis.
The Catholic Archbishop of Cardiff and Bishop of Menevia, Mark O'Toole, said, 'With a sense of deep joy we embrace this Cross, kindly given by King Charles, and containing a relic of the True Cross, generously gifted by the Holy See.
'It is not only a sign of the deep Christian roots of our nation but will encourage us all to model our lives on the love given by our Saviour, Jesus Christ.'
Source: The Tablet