WelCom February 2022
Pope Francis has expressed his spiritual closeness to the people of Tonga, following the massive eruption of the Hunga Tonga-Hunga Ha'apai volcano that unleashed a destructive tsunami last month.
"My thoughts go out to the peoples of the Tonga Islands who in recent days were affected by the eruption of an underwater volcano, which caused considerable material damage. I am spiritually close to all those who are sorely-tried, and I implore from God relief in their suffering. I invite everyone to join me in prayer for these our brothers and sisters." – Pope Francis, 19 January 2022

---
Support pours in for devastated Tonga 
Annette Scullion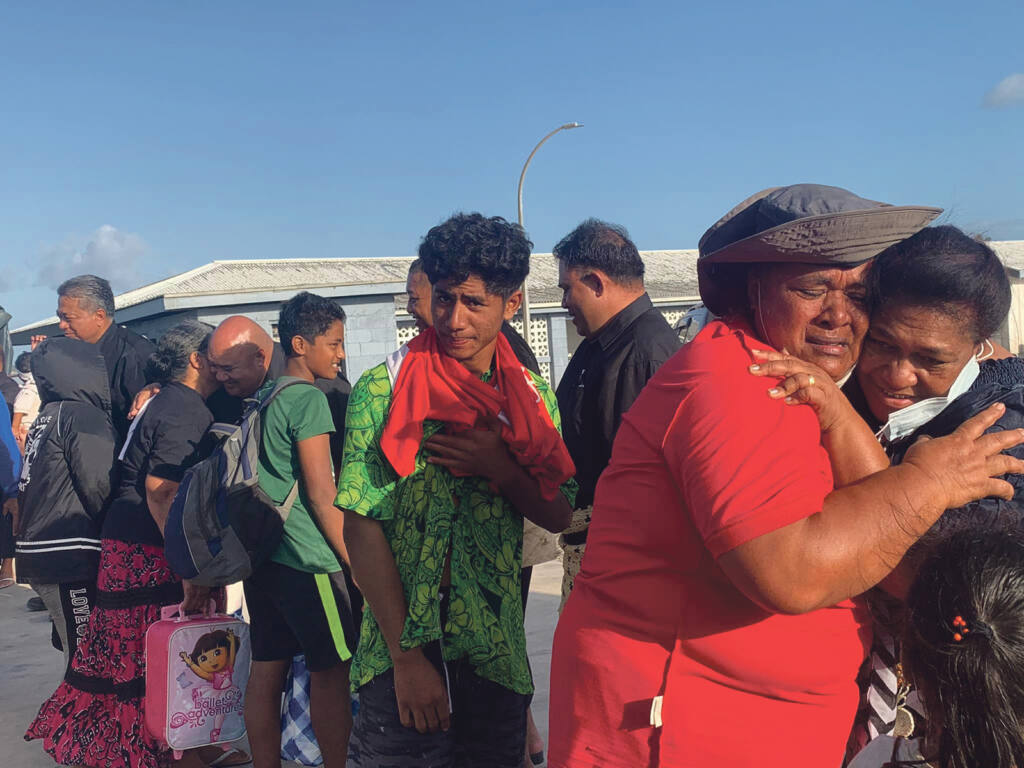 Tonga is a kingdom of more than 170 South Pacific islands, many uninhabited, and most lined with white beaches, coral reefs and covered with lush and colourful tropical rainforest. But on Saturday 15 January, the country once so bright with vibrant colours, was turned grey by volcanic ash from a major eruption of underwater volcano Hunga-Tonga-Hunga-Ha'apai, which resulted in a tsunami in Tonga and surrounding areas. The devastation has impacted tens of thousands in Tonga. Three people lost their lives.
International support so far has included humanitarian relief, clean up, the rehabilitation and reconstruction of infrastructure, and emergency supplies for Tongan families most affected. Communications have been very challenging with internet and data disrupted due to the severing of a sea cable from Fiji. But the people of Tonga have shown incredible resilience.
Within days of the disaster, Caritas Aotearoa New Zealand (CANZ) was able to make contact with Caritas Tonga and was relieved to hear the team and their families are safe and well. The local team have been distributing pre-positioned emergency supplies, such as hygiene kits, buckets, jerry cans and water-purification items, and are working with local communities to provide further supplies and support. CANZ has offered an immediate Solidarity Grant to Caritas Tonga and is receiving generous donations, through its Pacific Relief Fund.
'Communications have been difficult, but we are thankful we are now in daily contact with Caritas Tonga,' says CANZ Director Julianne Hickey. 'Together we have completed the pre-positioning of emergency supplies at three locations in Tonga.
'One of the biggest immediate concerns has been the volcanic ash and dust. The ash affects drinking water, food crops, and respiratory health. Supplying fresh water and water-related emergency supplies has been a priority.'
Caritas Tonga Director, Suliana Falemaka, says the hot temperatures and lack of rain have created dry dusty conditions, making it difficult to breathe. 'Many people are preferring to work from home because their homes are often less ash-impacted.' 
Electricity supply is unstable everywhere. CANZ has approved the purchase of a generator for the Caritas Tonga office with some of the donated funds from the New Zealand public. 
The Catholic Diocese in Tonga has formed a disaster team with representatives from each of its departments meeting regularly to care for communities. Cardinal Mafi has sent a letter to parishes in Tongatapu requesting donations of food items and crops for the Ha'apai islands 
The people who have been evacuated from Mango and Atata islands to Tongatapu are staying in a Wesleyan hall at Sopu, in the Nuku'alofa area. Immediate counselling has been arranged for them and for others in 'Eua.
'Caritas Aotearoa New Zealand and Caritas Tonga have been overwhelmed by the generosity shown by our supporters', says Julianne Hickey. 'Within 10 days of the eruption and tsunami, together we have raised over $182,000. Mālō 'aupito! Thank you!'
To support Caritas Tonga, please donate to the Pacific Relief Fund online or via Caritas Aotearoa New Zealand, bank account: 03-0518-0211216-00. Include your first and last name and put Tonga as the reference: 
www.caritas.org.nz/donate-online
---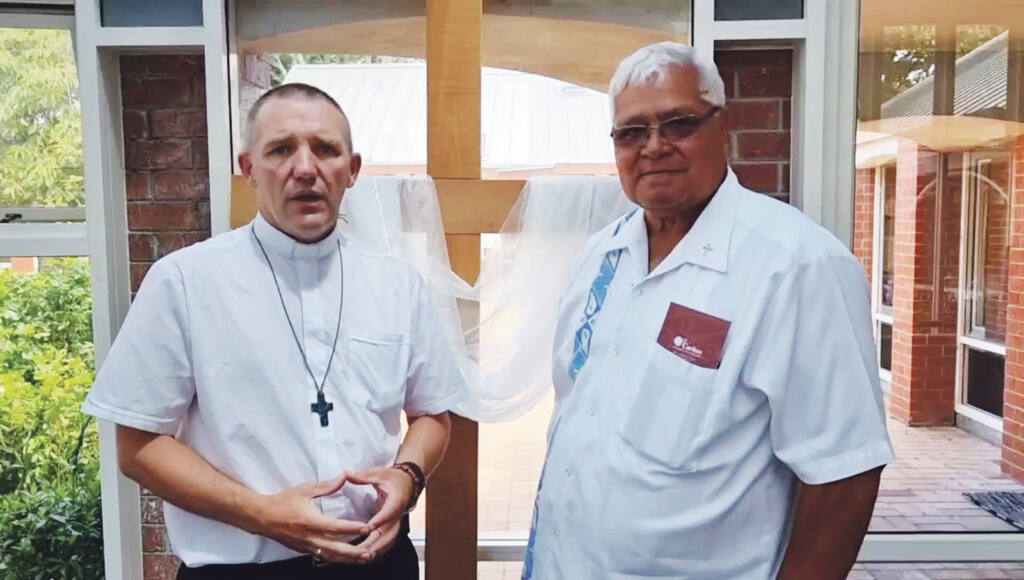 At the 2018 census, there were 82,389 people in Aotearoa New Zealand identifying as being part of the Tongan ethnic group, with the majority – 62,403 – living in Auckland. The population in the Tonga Islands was at 105,047.
Rev Michael Gielen (l), Auxiliary Bishop of Auckland met with Fr Patele Line (r), Tongan chaplain in Auckland to discuss providing support and to pray for those affected by the volcano and tsunami in Tonga. In a message on his facebook page Bishop Michael says, 'Please save the date of Saturday 12 February where we will have an online fundraiser, 7pm-9pm, for our Tongan whānau. All money raised will be distributed on the ground in Tonga to those who need it most through Catholic agencies.' Details are on: www.facebook.com/BishopGielen