WelCom November 2019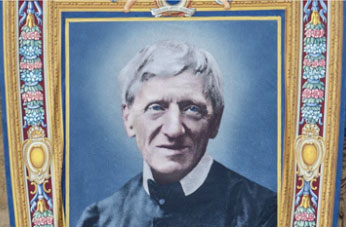 As Pope Francis named English Cardinal John Henry Newman a saint on Sunday 13 October, he told Catholics the goal of life is a transforming encounter with Jesus.
The ultimate goal is not health or wellness, but the encounter with Jesus … 'He alone frees us from evil and heals our hearts. Only an encounter with him can save, can make life full and beautiful,' the Pope said at the canonisation Mass in St Peter's Square.
He officially recognised John Henry Newman, Mariam Thresia, Marguerite Bays, Giuseppina Vannini, and Dulce Lopes as saints.
The canonisation was attended by Prince Charles and delegates from the Church of England.
'Today we give thanks to the Lord for our new saints. They walked by faith and now we invoke their intercession,' Francis said.
He read a quote from one of St John Henry Newman's sermons describing the holiness of daily life: 'The Christian has a deep, silent, hidden peace, which the world sees not… The Christian is cheerful, easy, kind, gentle, courteous, candid, unassuming; has no pretence … with so little that is unusual or striking in his bearing, that he may easily be taken at first sight for an ordinary man.'
St John Henry Newman was a 19th-century theologian, poet, Catholic priest and cardinal. Born in 1801, he was before his conversion a well-known and well-respected Oxford academic, Anglican preacher, and public intellectual. His 1845 conversion to the Catholic faith was controversial in England, and resulted in the loss of many friends, including his sister, who never spoke to him again. He died in 1890, aged 89.
Source: Catholic Herald.