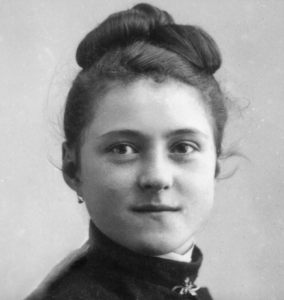 WelCom June/July 2023
Individuals become Christian because they have been touched by Christ's love, not because they have been convinced or coerced by someone else, Pope Francis said.
The Catholic Church needs missionary disciples who have hearts like St Thérèse of Lisieux and who 'draw people to love and bring people closer to God,' he told people at his weekly general audience in St Peter's Square, 7 June.
'Let us ask this saint for the grace to overcome our selfishness and for the passion to intercede that Jesus might be known and loved,' he said.
The Pope continued his series of talks about 'zeal' for evangelisation by focusing on St Thérèse, the 19th-century French Carmelite nun who is patron saint of missions and a doctor of the church.
Before beginning his general audience talk, the Pope walked with his cane to a large reliquary containing the relics of St Thérèse that was placed on a table near where he sits to deliver his catechesis. He placed a large white rose before the ornate reliquary and stood a few moments in prayer.
During his catechesis he announced he was planning to dedicate an apostolic letter to her to mark the 150th anniversary of her birth this year.
Pope Francis has said he has a special devotion to the saint, once telling an interviewer that he used to keep a photo of this 19th-century French Carmelite nun on his library shelf when he was archbishop of Buenos Aires.
During his Wednesday general audience talk, the Pope asked Christians to find inspiration in the life of St Thérèse, who lived 'according to the way of littleness and weakness,' defining herself as 'a small grain of sand.'
She lived in poor health and died at the age of 24, but 'her heart was vibrant, missionary,' the Pope said.
Source: Catholic News Service