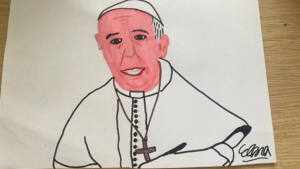 WelCom June/July 2023
While recuperating from his abdominal surgery earlier this month, Pope Francis was particularly grateful for messages and drawings received from children receiving treatment in the Gemelli Hospital's paediatric oncology department.
Vatican spokesman Matteo Bruni said, 'Pope Francis is touched by the many messages that he continues to receive in these hours.
'In a particular way, he intends to address his thoughts and thanks to the children who are currently hospitalised, for the affection and love received through their drawings and their messages,' Bruni said, referring to a slew of colourful sketches that were delivered to the pontiff's room.
To these children, as well as the medical staff, nurses, social healthcare workers and spiritual aides 'who daily touch pain with their hands, relieving its weight, he expresses his gratitude for their closeness and prayer,' Bruni said.
Pope Francis, for his part, responded to the children, and to all those praying for him and offering their best wishes, with a message from his @Pontifex account, tweeted in nine different languages: 'I sincerely appreciate the prayers and numerous expressions of closeness and affection received in the past few days. I am praying for everyone, especially those who suffer. I ask you to keep me in your prayers.'
Pope Francis has visited the paediatric oncology ward twice already, in July 2021 when he was operated on for diverticular stenosis; and earlier this year when he was hospitalised with infectious bronchitis.
Pope Francis, 86, was admitted to Rome's Gemelli hospital on 7 June to undergo surgery for an abdominal hernia at the incision site of a previous surgery, which was causing him pain and discomfort. Bruni said that Pope Francis' post-op status was regular and within the norm.
Pope Francis was released from Gemelli Hospital on 16 June and returned to the Vatican. The Pope's surgeon, Dr Sergio Alfieri, said the Pope is well, even better than before.
Source: Vatican News