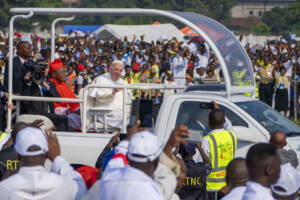 WelCom March 2023
Pope Francis' trip to the Democratic Republic of Congo (DRC) and South Sudan was a pilgrimage of peace to countries with long-running violent conflicts that have largely been forgotten by the rest of the world.
It also reflected the rising importance of Africa to the future of the Catholic Church. The visit was from 31 January to 5 February 2023.
It was the first papal visit to the DRC since 1985, a country where almost half of the 95 million people are Catholics. Africa is the fastest-growing location for the Church, with more than 200 million worshippers.
On his visit to South Sudan, the Pope was accompanied by Anglican Archbishop Justin Welby of Canterbury and Rev Iain Greenshields, moderator of the general assembly of the Church of Scotland. The Church leaders hoped their ecumenical visit would encourage warring leaders to live up to the commitments they have made in a series of accords and finally offer their people peace. Archbishop Welby said all three leaders shared a desire to 'stand in solidarity' with the South Sudanese people.
Speaking at his regular weekly public audience following his trip, Pope Francis reported on his voyage to Africa, 'where I said "No" to violence, "No" to resignation, "Yes'" to reconciliation and hope.'
The Pope said he had long wanted to visit 'the green heart of Africa,' which 'together with Amazonia, are the two lungs of the world.'
He decried the exploitation of Africa's rich natural resources, and the warfare that has bloodied the Democratic Republic of Congo and South Sudan. The latter, he said, is 'a victim of the old logic of power and rivalry.'
The pontiff said his 'ecumenical pilgrimage of peace' to South Sudan had continued an effort to foster dialogue in that country. He also condemned the corruption that mars African politics, and the arms trafficking that exploits violence.
Sources: NPR, Vatican News.