WelCom April 2021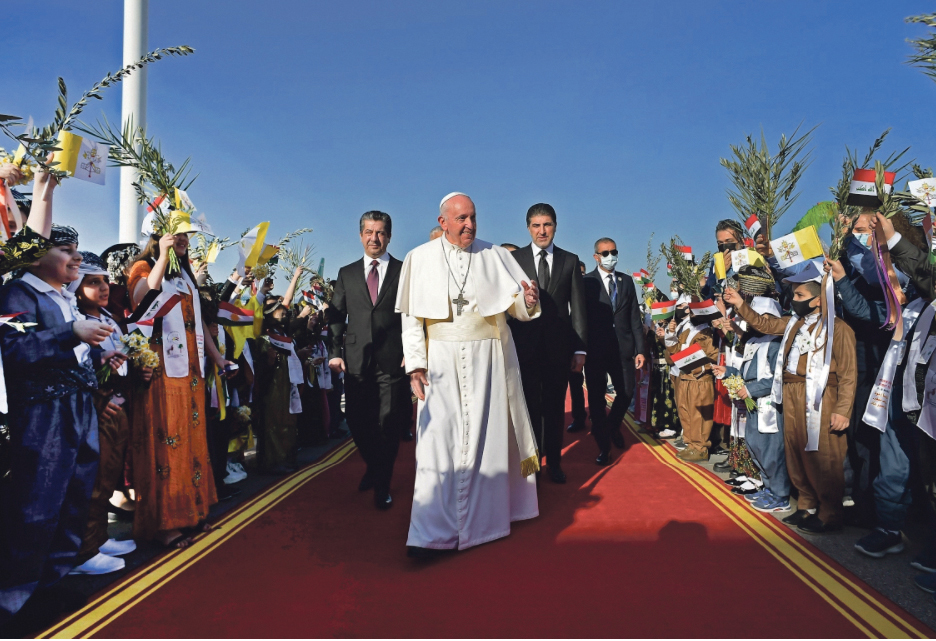 Last month Pope Francis defied security fears and the Covid-19 pandemic to visit Iraq, one of the world's oldest and most persecuted Christian communities.
His trip was aimed at bringing hope to the country's marginalised Christian minority, while boosting relations with the Shiite Muslim world.
The Pope's historic four-day visit (March 5–8) was the first by a pontiff to the birthplace of the Eastern churches from where more than a million Christians have fled over the past 20 years.
The systematic persecution of Iraqi Christians at the hands of al-Qaeda and then ISIL (ISIS) in more recent years has pushed tens of thousands to leave Iraq and is threatening the community's survival.
Francis met the dwindling Christian communities of Baghdad, Mosul and Qaraqosh, Iraq's largest Christian city in the Nineveh Plains, where, in 2014, ISIL wiped out the remnants of the Christian presence that had survived al-Qaeda's violent campaigns.
In Erbil, the Pope met the Kurdish authorities and some of the 150,000 Christian refugees from central Iraq.
Pope Francis prayed for 'victims of war' outside a ruined church in Mosul and made a plea for Christians in Iraq and the Middle East to stay in their homelands.
The Pope, who in 2019 inaugurated a new phase of interfaith dialogue between the Roman Church and Islam, also visited Najaf to meet Grand Ayatollah Ali al-Sistani, the highest Shia authority in Iraq where Shia Muslims represent about 70 per cent of the total population. The Pope said his meeting with the 90-year-old Ayatollah Ali al-Sistani had been 'good for his soul'.
Pandemic risks
Regarding the crowds of people who gathered for his visit, the pontiff said he had weighed the risks of travelling during the coronavirus pandemic, but said he decided to go ahead with it after much prayer. He professed his belief that God would protect those who might be exposed.
Pope Francis said the idea of a trip 'cooks over time in my conscience. I prayed a lot about this. And in the end I took the decision freely. It came from inside. I said "He who makes me decide this way will look after the people".'
There were once more than 1 million Christians in Iraq, a country of 38 million, but now their population is estimated to be between 250,000 and 400,000 after years of war, religious persecution and economic decline.
Sources: Vatican News, Aljazeera