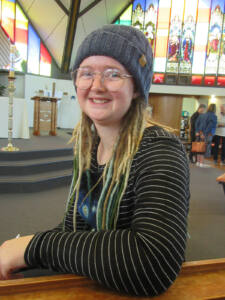 WelCom June/July 2023
Sue Seconi
Parishioners of the Catholic Parish of Whanganui – Te Parihi Katorika Ki Whanganui were invited by parish priest Fr Craig Butler, at Sunday Eucharist on 14 May, to extend their right hands as Rain [Lorraine] Forrest was commissioned as a youth minister.
Appointed chaplain to Cullinane College two months prior, Rain brings to both of her appointments years of experience working amongst young people.
Rain shifted to Whanganui at the beginning of this year from the New Plymouth Pastoral Area to be closer to significant people in her life. 'It was time for a change and I've always like Whanganui as a city and its climate,' she said.
Born in Auckland and raised and educated in Wellington, Rain says she has always felt called to work amongst young people. She gained a Youth Worker Community Studies diploma through Praxis and qualified as an early childhood educator.
Skilled in facilitation and event organisation, Rain brings passion, enthusiasm and creativity to her ministry as she works towards laying young people's foundations of self-worth and security.
Rain is also part of the Life Teen Aotearoa organising team, which supports parishes using the Life Teen resources locally and plans Life Teen Summer Camp Aotearoa annually. Life Teen is an international movement in the Catholic Church whose mission is to lead teens closer to Christ.