2 August 2012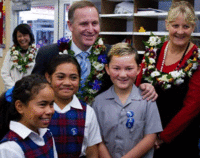 Porirua's Holy Family school principal Karl Vavau is delighted with the government's initiative to address the high incidence of rheumatic fever in children.
A new school throat swabbing programme is part of a $24m five-year campaign to reduce rheumatic fever. The government will put an additional $12 million into tackling rheumatic fever rates.
Prime Minister John Key and Associate Health Minister Tariana Turia chose Holy Family school to launch the programme in May and Mr Vavau said it was great to see the government investing money in initiatives that support healthy children.
'Our school still encourages parents to take their sick child to the doctor in the first instance but if they can't, then this service is a godsend.'
'Some of our parents struggle to get time off work or to find transport to the doctor so having a public health nurse swabbing students' throats twice a week is reassuring for them.'
'Rheumatic fever in children is a serious issue in this area,' Turia said.
'Children whose sore throats progress to rheumatic fever are significantly at risk of major heart damage later in life.'
The programme will target 35,000 at-risk kids in seven regions nationwide, including Porirua.
Public Health nurse Annie Highet said nurses in schools could now prescribe antibiotics to stop sore throats turning into rheumatic fever.
Housing and overcrowding was still a major factor though, she said.
Mr Vavau said the community was very supportive of the initiative and the follow-up service provided to families if their child's test returns a positive reading.
'Public Health Nurses do such amazing work in our schools and to have them carry out work like this reinforces for us their importance in keeping our students healthy.'
The programme creates 'very little disruption' in the class routine. Children are asked in the morning if they have a sore throat then the teacher writes their names into a notebook that is sent to the office. The nurse then swabs each student taking about three minutes per student.'
Image:Lourdes Faifua, Adah Setefano and Phoenix Nielson with John Key and Deputy Principal Caron Watson. Photo: The DominionPost