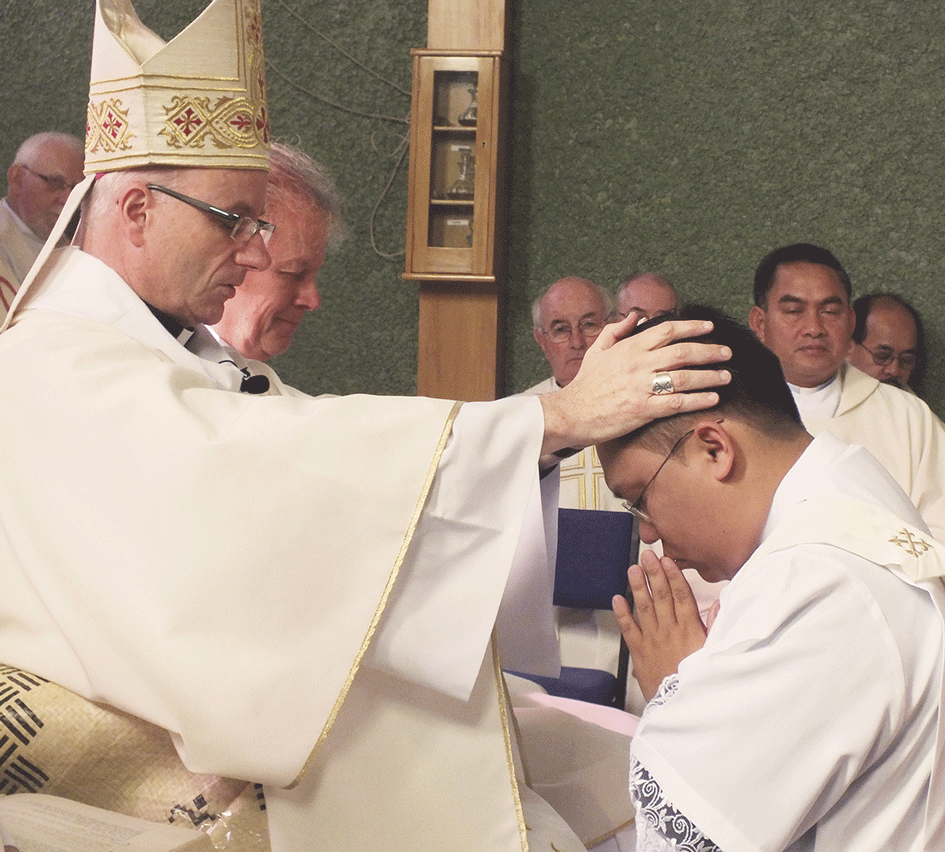 June 2015
News
Kathleen Field
It is God that has chosen you, Bishop Charles Drennan reminded Deacon Nathaniel Tat Brazil at his ordination to the priesthood, Saturday 16 May, in St Peter Chanel Church, Hastings.
Bishop Charles explained that in priesthood, God has chosen Nathaniel to lay down his life to take up a new life in the resurrection; a life in the wonderful mix of God's love in which he will serve and be tested.
The liturgy united a feast of cultures with Fr Nathaniel's Filipino community proudly visible throughout.
Fr Nathaniel's sister Ms Josephine Arguilles and aunt Mrs Luisa Tengco, who had travelled from The Philippines for the occasion, invested him with his stole and chasuble.
The Philippines Ambassador to New Zealand, Mrs Virginia Benavidez, was a special guest.
Fr Nathaniel said, 'I was a bit nervous at the start of my ordination and a little worried I would become overwhelmed. Instead, I experienced immense joy and a tangible sense of God's love and the love of everyone present, working together to make it a really blessed day.
Kathleen Field is Youth and Young Adult Co-ordinator, Diocese of Palmerston North.