Palmerston North
Gwen Mardle
2 October 2012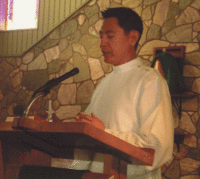 Brother Ferdinand Alquiroz Miranda believes that his vocation to the priesthood is 'in the blood'. The 34-year-old Filipino student at Good Shepherd College has two uncles who are priests (one a Cistercian monk) and an aunt, a religious sister.
'I was also influenced by my grandmother who is a devout Catholic,' he said.
Br Ferdinand has already done 10 years' seminary training in the Philippines.
Inspired by his rector and by the invitation of Bishop Pat Dunn to 'evangelise away from home', Br Ferdinand applied to come to the Palmerston North Diocese.
He will finish his year of study in Auckland and wait for the council of priests to call him to ordination in New Zealand.
Br Ferdinand has recently spent two weeks as a pastoral assistant in St Peter Chanel parish Hastings where he quickly won the affection of the people.
Preaching at a youth Mass on Sunday September 9, he told the young people that the need to be like the deaf man in the gospel (Mk 7:31-37). 'We have to let Christ point his fingers in our ears,' he said. 'When he has opened us to truly hear his word, we will find ways to communicate to a world that is deaf to the gospel.' Mabuhay ka, Kuya!
Image: Br Ferdinand at the youth Mass in Hastings.