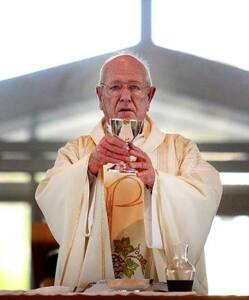 WelCom June/July 2023
Nicola O'Keefe
The parish of Our Lady of Hope, Tawa Titahi Bay administers a trust established by the late Fr Fergus Reeves. It supports training, development and education for aspiring priests and religious in the Wellington Archdiocese.
Fr Fergus Reeves was ordained in Wellington on 29 June 1962. He served as a priest for 53 years mostly within the Wellington Archdiocese. When he retired, Fr Fergus returned to his hometown in New Plymouth, by then in the Diocese of Palmerston North. There he responded unstintingly to requests to supply sacramental ministry in the North Taranaki Pastoral Area. At Fr Fergus' golden jubilee celebrations in New Plymouth in 2012, Fr Tom Lawn said 'his sacramental and liturgical service, his homilies, his vocal finesse, collegial wisdom, friendly presence and sense of humour will always be appreciated.' Fr Fergus Reeves died at New Plymouth on 22 February 2020.
In 1987, on the 25th anniversary of his ordination, Fr Fergus established a trust fund to foster vocations to the priesthood. The Fergus Reeves Trust continues today and is administered by Our Lady of Hope Parish, Tawa/Titahi Bay. The trustees invite candidates to apply for financial support towards their vocations.
The trust deed objectives support activities connected with:
training or support of candidates for the priesthood in the Archdiocese;
fostering promotion or encouragement of vocations to the priesthood in the Archdiocese;
postgraduate training for development of priests or for the Archdiocese;
religious or education purposes of the Archdiocese.
If you or someone you know is considering a call to the priesthood; if you are seeking training or support for lay ministry within the Archdiocese; or if you are in need of some support to enable you to take your next step on your vocation journey, you are invited to apply to the Trust.
Please contact the Finance Committee, Our Lady of Hope Parish at ourladyofhope@xtra.co.nz to make an application. Provide a short brief of your aspirations, the support you are seeking and how the Trust's contribution will meet one of the objectives above.
Only candidates currently living in New Zealand and connected to the Wellington Archdiocese can be considered for support from this Trust.
Support the Trust – if you would like to donate to support the efforts of the Fergus Reeves Trust, please contact our parish office at ourladyofhope@xtra.co.nz for internet banking details and ensure your payment uses the reference of Fergus Reeves Trust.
Nicola O'Keeffe is Treasurer of the Finance Committee for Our Lady of Hope Parish, Tawa/Titahi Bay.