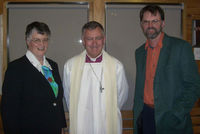 In a ceremony that challenged all present to reflect on their Christian vocation, Peter Healy SM was commissioned as the Catholic Chaplain to the Wellington Prison and Kilian de Lacy as the Senior Catholic Prison Chaplain. Both are replacing Br Kieran Garvey who has retired.
Br Kieran and the general manager of the Wellington Prison, Dunn Kaiwai, welcomed supporters saying that ministry to the prisons was dear to Jesus' heart.
Matthew's gospel says, 'I was in prison and you visited me' [Mt 25:36]. In other words 'you cared about me'. We were told that there is not much care for prisoners expressed in New Zealand today and we can't be proud of having the highest incarceration rate per ratio of population of all OECD countries outside the United States.
But where society in general may show little concern for those in prison we witness the churches responding to the gospel mandate to 'care for those in prison' as both Kilian and Peter are being sent forth.
As Senior Catholic Prison Chaplain, Kilian's role is to provide, on behalf of the NZ Catholic Bishops' Conference, the necessary pastoral care and support of chaplains who work in the prisons. As part of the Management Team of the National Prison Chaplaincy Service she will liaise between the bishops and the diocesan chaplaincy team.
Peter's role as the Wellington prison chaplain is a challenging one as the day-to-day ministry is not always fully understood and is sometimes misunderstood. The chaplain is called to minister to both prisoners and staff without jeopardising or compromising the relationship of either.
Peter Healy SM undertook to be a minister of love and mercy, and a loving, caring presence to the men and women he meets.
Kilian de Lacy undertook to represent the bishops in caring for the prison chaplains, serving them through leadership and pastoral care, to be a listening ear, a strong shoulder and to have the heart of Christ.
Throughout this commissioning ceremony the focus was constantly on those whom the chaplains serve.
There were intercessory prayers for first-time prisoners, for those who create anxiety and fear, for the weak who are abused by the strong, for the unloved and the unwanted who receive neither letter nor visit, as well as those who advise the innocent to plead guilty and those who have abandoned hope of a fair trial, who are victims of rough justice.
The picture shows Kilian de Lacy and Peter Healy sm after the ceremony with Archbishop John Dew.