Worshippers crowded Dili's Catholic cathedral for a Mass of thanksgiving and forgiveness after the recovery of President Jose Ramos-Horta who has returned to East Timor following treatment in Darwin.
UCA News reports that Bishop Alberto Ricardo da Silva thanked God for Ramos-Horta's recovery and asked God's forgiveness for the man said to have masterminded the assassination attempt on the president.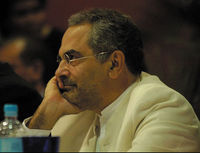 Prime Minister Alexandre Gusmao's motorcade was also attacked that same day, but Gusmao escaped unharmed.
Security was tight at the Mass as the president joined members of his government and the diplomatic corps among the congregation of 2,000.
'I believe God will always protect those people who believe in him and serve this country with goodwill and God has saved our president's life,' the bishop told the gathering.
'I deeply regret that Reinado did not listen to his president and rather used violence to solve his problem,' the prelate added. He asked the people to pray for Reinado's soul and for God to forgive him.
Reinado, a former police major, had been at odds with the government since May 2006 when he abandoned his headquarters due to dissatisfaction over the sacking of 599 soldiers, mostly from the west of the country. He then led followers to attack a military base near Dili.
Security forces from New Zealand, Australia, Malaysia and Portugal were called in to help stabilise the country. Foreign forces arrested Reinado in June 2006 and he was jailed. However, he escaped after three months and became the most wanted person in the country until he was shot dead outside the president's house. After the Mass, President Ramos-Horta told worshippers he wanted to 'thank the church, which has been with its people and prayed for my recovery and for the safety of our nation'.
Afterwards, Ramos-Horta said he would continue to serve the people as president. Media reports while he was in Australia cited him as saying he might step down early.
'I will continue my job to attend to my people in helping them out of poverty,' the president affirmed in Dili.
Picture shows Jose Ramos-Horta at a Pacific Forum meeting in 2005.