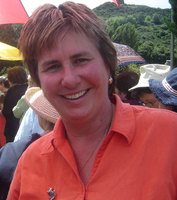 This is my 12th annual Challenge 2000 Social Justice Pilgrimage and once again it was an amazing privilege to share the journey with remarkable young people and to discover and rediscover so much about myself and my own pilgrim faith.
Joseph Campbell's Hero's Journey was a map for this pilgrimage. As his model suggests we experienced the journey as unique individuals, we identified with Christ's journey, and we retraced the footsteps of the heroes and heroines who walked Aotearoa New Zealand as our faith ancestors.
We listened, prayed, discussed, met other pilgrims and shared their stories, walked, wondered, experienced, reflected and struggled with life and death issues and wrestled with our personal and collective 'angels' and 'demons'.
On this hero's journey three encounters particularly challenged me.
In one holy place a traveller gave a talk about what inspired him to live the gospel and work for justice with indigenous people both in our country and overseas. It was a powerful and inspirational meeting. As we left he and his wife gave us a huge loaf of bread they had baked for us for our journey. As an aside he said to me, 'I cannot share Eucharist with you any more Kitty but I can still do this for you.'
Anguish welled up deep inside me. I felt as though I had been knifed. We parted and I drove away wondering when we, the Church, will be able to accommodate/include ordained priests who are called to journey on unfamiliar paths.
The next encounter involved visiting the graves of our founding missionaries. The interest and awe of my fellow pilgrims as we discussed the zeal and courage of these faith heroes and heroines had a real impact on me. The distances that Suzanne Aubert and Fr Reignier covered on foot and horseback and the distances they covered culturally and emotionally were huge. They travelled lightly on the land without detailed maps or petrol stations. But their deep conviction called them on to live outside of their cultural experience and to keep on learning and adapting to this new, different and strange context.
They left France and traversed unfamiliar and difficult ground and, as history shows, there was arguing and rejoicing, self-doubt and self-belief, tension and determination, uncertainty, failures and successes. It was great and it was hard. I wondered if I had become too soft. When I and my fellow pilgrims are called out of our safe physical, emotional and spiritual contexts, how do we respond?
This pilgrimage reminded me to try and be brave enough to embrace the challenges of today, to open the door, even if there is something scary knocking, and to try and live the crazy paradoxical call of the gospel.
The third encounter was to do with New York. On the first two days of the pilgrimage Sr Patricia Bruno and Fr Jude Siciliano, a Dominican from the Bronx, guided us through Sunday's scripture. For two days we listened to, read and reflected on the story of the Wedding Feast at Cana [John 2:1-11]. It was an amazing experience to be so immersed in this gospel and to be nourished (or is it watered) by it. (I myself enjoyed Mary ignoring her son's unwillingness to act and suggesting to the stewards to, 'do whatever he tells you' thereby getting around the problem!)
Throughout the pilgrimage we spoke of miraculous signs and how life supports us if we follow our deepest call, or bliss. There were many such signs that challenged and comforted the pilgrims throughout this journey.
On the final Sunday we sat on the floor in Jerusalem celebrating the refurbished convent and church. The papal nuncio, Archbishop Charles Balvo, proclaimed the story of The Wedding Feast at Cana. We heard once again a booming Bronx accent in a Māori village where a wee French woman started our first New Zealand religious order. There we all were: tangata whenua, tau iwi, Samoan, Irish, Tongan, Polish, Christian, Catholic, young and old sharing who we were and searching for our own way to live lives where we do what he tells us. There was room for all of us. We were together as people of different cultures, backgrounds, perspectives and faith experiences. Universal made sense.
Those words 'do what he tells you' and 'follow your bliss' became my mantra throughout this pilgrimage. I only hope and pray that I have the courage now to keep travelling in lands I am not familiar with and for which I don't have a compass or a map – to launch into the deep and, as one young pilgrim said often, to keep it real.
It seems a good focus for this Lent …to keep it real, alive and active.
Kitty McKinley is the director of Challenge 2000.