WelCom June 2020: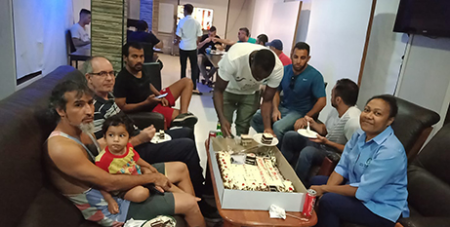 Dozens of refugees who have spent years in Australia's offshore processing regime have been flown to the United States for resettlement, despite Covid-19 travel restrictions.
Transfers from Papua New Guinea and Australian immigration detention centres under the US resettlement programme are continuing as the US struggles to contain the pandemic that has killed more than 100,000 people there.
Thirty-five refugees departed Port Moresby on 21 May 2020, bound for the US via Singapore, and one refugee was due to fly to Finland. A handful also departed Australia for the US. The refugees, all men, are due to arrive in Los Angeles and then be resettled in 18 cities across the US.
On Tuesday 19 May, a number of refugees in Port Moresby celebrated their imminent resettlement under the Australian-US scheme with priest Fr Giorgio Licini, the general secretary of the Catholic Bishops Conference of Papua New Guinea and Solomon Islands.
'They were relaxed but had mixed feelings, especially that there are still some left behind, many are those who were never given refugee status and could not go home,' Fr Giorgio said.
'We understand that somehow the Australian Government wants to finish the US option, they should finish this thing as soon as possible. It makes no sense to prolong this agony.'
Fr Giorgio said the men did not undergo coronavirus isolation in preparation for their departure.
'PNG is in quite a good situation and there is no trace of the virus, life here is 95 per cent normal.'
A Home Affairs spokesperson said that Australia remained fully committed to the US resettlement programme.
Source: SBS News/CathNews Australia.