WelCom August 2022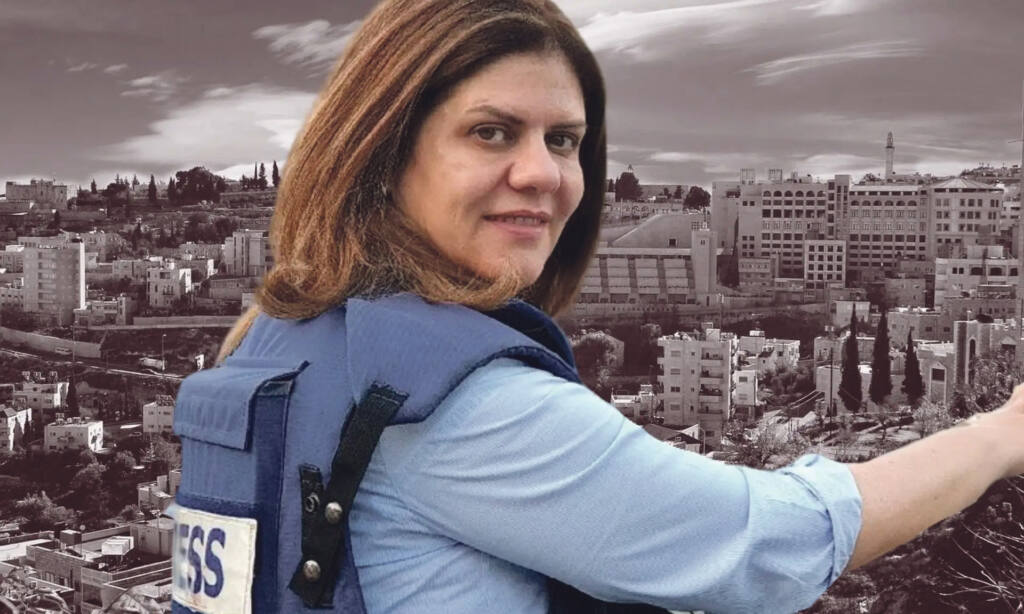 Shireen Abu Akleh, a Catholic, was a Palestinian-American journalist who worked as a reporter for the Arabic-language channel Al Jazeera for 25 years. She was one of the most prominent names across the Middle East for her decades of reporting in the Israeli-occupied Palestinian territories.
As a leading journalist in the Arab world, Shireen, 51, inspired many other Palestinians and Arabs, particularly women, to pursue careers in journalism.
On May 11, 2022, while wearing a clearly-marked, blue press vest and helmet, the veteran journalist was shot and killed while covering a raid by the Israel Defense Forces on the Jenic refugee camp in the West Bank. Al Jazeera, an Agence France-Presse photojournalist, and the Palestinian Ministry of Health reported that Israeli snipers shot and killed her.
The manner of Shireen's death and the subsequent violent disruption at her funeral, when the Israeli Police armed with batons attacked pallbearers who were carrying her coffin, drew widespread international condemnation of Israel. Her funeral was attended by tens of thousands of Palestinians and was believed to be the largest Palestinian funeral in Jerusalem in over 20 years.
On May 28 in Palmerston North, local Palestinian leader Rami Al-Jiab organised a rally at the Square to protest Shireen's killing and to show support for the Palestinian cause for a peaceful solution. About 100 people gathered. The speakers were Gerry Lew, deputy chair of the interfaith group, Zulfiqar Haider Butt from the city council, Rami Al-Jiab, and Mary Eastham. Mary was recently chair of the Palmerston North Interfaith Group and is a trustee of the Religious Diversity Centre Trust and a member of the Association of Practical Theology in Oceania.
Originally from America, Mary was invited as a Catholic woman to speak about the killing of Shireen Abu Akleh, because she too was both Catholic and an American citizen. Mary shares her presentation with WelCom.
---
I was in the United States visiting my family when I heard the news of the killing of Shireen Abu Akleh. Shireen was also an American citizen with family in New Jersey, a state just north of my home state of Maryland. That such a fearless voice for the human rights of the Palestinian people was so brutally silenced outraged me, especially since she was wearing the vest clearly marked 'PRESS' which should have protected her. The journalist committed to bearing witness to the truth is truly heroic in today's world where 'alternative facts' are confused with actual events that took place.
The attack on the funeral procession for Shireen was yet another outrage. It will be the responsibility of the international criminal court to ensure her killers are brought to justice.
I have been asked to speak today as a Catholic because Shireen was Catholic. She embodied many powerful principles of what it means to be Catholic today. Her courageous dedication to justice for her people and her tenacity in speaking truth to power, will inspire people everywhere to fight against oppression and injustice wherever it exists.
Since the 1970s, Catholics have been conscientised to critique structures of 'institutionalised violence', which is central to liberation theology – as it was to Shireen's work as a reporter for Al Jazeera. The phrase 'institutionalised violence' describes political systems that have been imposed on innocent people to prevent them from realising their innate potential as children of God. Every person has been created to live a truly human life, which means the right to self-determination, to live in peace, to have sufficient resources to live a truly human life – like food, clothing, shelter, medicine, education. Wherever systems and structures of institutionalised violence prevent God's children from realising their human potential, Catholics are bound by conscience to protest injustice and to work for the common good in solidarity with their sisters and brothers.
In the days since Shireen's murder on 11 May, I have watched news footage from Al Jazeera of her 25 years of reporting news from Jerusalem, Jenin, Ramallah, and Israel's repeated incursions across the occupied West Bank, with great sorrow and loss. Why? This brave beautiful woman who inspired other women to enter journalism no longer walks on this earth. When I wondered why she and other courageous women like her routinely put themselves in harm's way to document human rights abuses to the world, I remembered that she of all people would know in situations of war and armed conflict, it is always women and children who suffer most.
According to the Catholic doctrine of the communion of saints, a real spiritual connection exists between the saints in heaven and saints on earth. Therefore, Shireen's spirit lives on in those who continue her work with the compassion with which she lived.
The word 'compassion' is from two Latin words – com passion – meaning 'suffering with'.
Shireen suffered with her people; she suffered with Palestinian mothers who lost their children to violence; she suffered the catastrophe of her people whose land was carved up by European imperialism. As people of God, let us continue her struggle against oppression, which means, first and foremost we become more and more people of peace who can empathise with the suffering of everyone in this world of conflict and bloodshed.
Shireen was born in Israeli-annexed East Jerusalem; her mother was born in West Jerusalem before the creation of Israel in 1948, and her father was from Bethlehem, in the occupied West Bank. The Church of the Holy Sepulchre is located in the Old City of Jerusalem and the family would probably have worshipped there from time to time as it is the most important Christian place of pilgrimage. It covers what Christians believe to be the place where Jesus was buried and rose from the dead.
The Franciscan Friars were dispatched to the city of Jerusalem 800 years ago by their founder, St Francis of Assisi, to ensure a permanent Christian presence in the Holy Land. Their presence is about peace as it commemorates the meeting of the saint from Assisi with the sultan Malek Al Kamil in the middle of the fifth crusade when St Francis went to speak with him with only the Gospel in his hand.
Let me close in the spirit of this encounter by praying St Francis' prayer for peace, which I invite you to pray.
'Lord make me an instrument of your peace; where these is hatred, let me sow love; where there is injury, pardon; where there is doubt, faith; where there is despair, hope; where there is darkness, light; and where there is sadness, joy.'