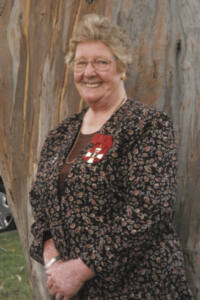 WelCom December 2022
Stephanie Kitching rsm
A long-time member of Ngā Whaea Atawhai o Aotearoa Sisters of Mercy New Zealand, Mary Marcellin (Wilson), went to God on 24 October 2022.
In August 1955, Marcellin entered the Congregation at St Mary's Convent, Thorndon, professing her vows on 21 January 1959 with the motto: 'Serve the Lord with Joy', which she certainly did.
She began her teaching ministry at St Mary's Primary School, Palmerston North. The following year she moved into secondary teaching. Over the years she was on the staff at St Catherine's College, Kilbirnie, St Joseph's High School, Palmerston North and St Mary's College, Wellington. As well as teaching in the Religious Education, Commercial, Geography and Science areas, Marcellin had multiple extracurricular activities like the Duke of Edinburgh Award scheme.
Speaking to past students in 2015 Marcellin said: 'God is not an extension of the head teacher or your parent's authority – God is within each one of you, energising you toward all the good in your lives, supporting you and affirming you as a woman – unconditionally.'
This is how she saw her students.
Alongside teaching, Marcellin was also studying and graduated with a BA and then almost completed a BCom. Gardening nourished her spirit and many are the liturgical hangings and banners crafted by her which are still in use. She was most generous with her creativity. Or, if the whim took her, she could be seen fishing off Miramar wharf!
In the early 1990s Marcellin stopped teaching and began what many remember as the most energetic time of her life. Firstly, she was on the Tertiary Chaplaincy Team at Victoria University of Wellington.
Then in 1997 she met Susan Baragwanath from Porirua College who asked her to teach at He Huarahi Tamariki, a school for teenage parents in Cannon's Creek, Porirua. Marcellin committed herself wholeheartedly and was much loved.
In 1997 also she accepted the position of Chaplain to Catholic Women's League where she wielded her influence for good. She was also Chaplain to Ascent, warmly recognising and encouraging all those in this group. Her interest in women saw her doing chaplaincy at Arohata Women's Prison.
Besides all these activities, Marcellin was involved in other outreaches regarding social justice and women's issues, even presenting submissions to parliament around contentious issues. She served on many boards and committees, offering her passion and expertise, while at one stage she was a member of the Wellington Mercy Leadership Team.
Her work for the Cathedral Parish was recognised in 2013 by the Archdiocese when she was presented with the John Patrick Fitzgerald Award for Service. The same year she was named 'Wellingtonian of the Year'.
One of the ventures Marcellin was most proud of was the establishment of the Wellington Homeless Women's Trust. She was pleased to see the first home open in 2013.
Marcellin said: 'We concentrate on restorative work with our clients and aim to provide them with resilience and self-esteem. We then relocate them in their own independent units.' This venture is still flourishing in Wellington today.
Throughout her life Marcellin looked outward, so was surprised to be awarded a Companion of the New Zealand Order of Merit in 2022.
This valiant woman is at peace now but is encouraging all of us to continue her outreach.
In her words… 'Where you see an injustice in society, especially against women – ACT.'