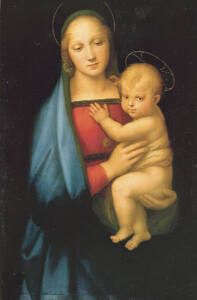 WelCom December 2022
An immersive multi-media experience featuring masterpieces of the 10 most famous Renaissance masters, will be showing as an enhanced digital projection at Auckland's Aotea Centre in January.
Titled 'Renaissance – The Age of Genius' the masterpieces will be displayed for the first time in a single exhibition, says Stewart Macpherson of the Stetson Group, co-presenting the exhibition with Auckland Live.
The gallery space will be transformed from floor to ceiling into an impressive synchronisation of masterworks by Giotto, Sandro Botticelli, Michelangelo, Raphael, Leonardo da Vinci, Caravaggio, Titian, Pieter Bruegel, Lucas Cranach and Albrecht Durer, all seen from different angles using sophisticated high-tech video projection, accompanied by exquisite polyphonic compositions of the Renaissance era.
Dr Christopher Longhurst, lecturer in Theology at Te Kupenga Catholic Leadership Institute will be conducting VIP tours. His speciality, 'theological aesthetics', is about 'the interdisciplinary study of theology and aesthetics'.
He says the exhibition is not just about beautiful paintings and fine music, but inspiration and transformation. 'During Europe's Renaissance, these artworks changed the way people felt and saw the world. They made people think and feel differently, which led to ground-breaking discoveries and new social movements and political systems.
'To achieve this, the Renaissance went back to the past to gather wisdom for the future. They turned to ancient civilisations that existed more than a thousand years earlier. New and enlightened solutions were found in the world's ancient wisdom, producing a thriving civilisation with one foot in the past and the other foot in the future. Connecting the present with the past for the good of the future caused more innovative ideas to emerge. Other movements were born such as the Enlightenment, Industrial Revolution, and Scientific Revolution. It all started with art.'
Renaissance art holds clues to surpass the achievements of the past, as the Renaissance itself surpassed the achievements of classical antiquity, says Dr Longhurst. 'Therefore, this exhibition provides an opportunity for us today to look back in order to craft our world for the future, which is actually the meaning behind a famous Māori whakataukī 'ka mua, ka muri' ('walking backwards into the future').
'In revisiting these Renaissance masterworks today, we can find insights and inspiration from the past to deal with current issues. They show us how every present moment can benefit from the past; that the past is tired to the future, inspiring us to move forward looking back at what went before us. Otherwise, we could forget the greatness gone before us.'
The exhibition runs from 4–29 January 2023, 10am–5pm daily. VIP evening visits include a 30-minute live unscripted presentation before entering the gallery space for a 40-minute immersive experience.
Tickets online at Ticketmaster.co.nz or at the Aotea Box Office or at the exhibition.