WelCom May 2020:
Margaret Percy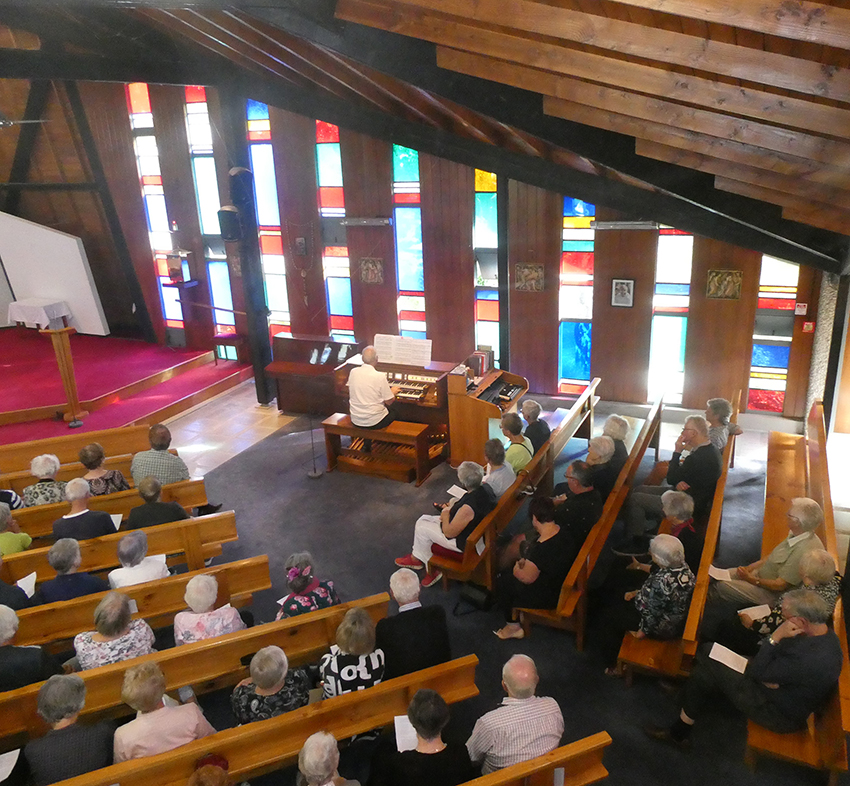 Internationally renowned organist Christopher Hainsworth revisited his friends in Havelock North and presented a programme of organ solos on Sunday 8 March 2020 to an appreciative audience at Our Lady of Lourdes Catholic Church.
Chris grew up in Wellington and studied the organ under Ernest Jamieson and Maxwell Fernie. He learned languages and music at Victoria University Wellington then travelled to Toulouse, France, to study for his Doctorate. In Brussels, Belgium, he studied organ with Jean Ferrard. He taught for 15 years at Waikato University as Associate Professor of Music and was Director of the Beziers Conservatoire in the South of France where he taught a further 15 years. He then devoted himself to solo performance on the organ, fortepiano and harpsichord, mainly in Europe, USA and Australasia, and is currently organist 'titulaire' of the Cathedral of Beziers.
For his New Zealand tour Chris put together an entertaining programme based around birthdates of composers and some historical anecdotes. Chris introduced his Havelock North audience to unfamiliar works as well as delighting them with recognisable melodies and entertaining commentary. His programme included compositions from Rossini, Scarlatti, van Suppe, Leopold Mozart, Ludwig van Beethoven, Tournemire, Henri Vieuxtemps and Louis Vierne. As a tribute to International Womens' Day, Chris featured works by Barbara Strozzi and Clara Schumann. He concluded his performance with his signature improvisations on music suggested by the audience.
The organising committee – parishioners of Our Lady of Lourdes – were delighted to introduce the varied audience to the charms of their lovely John Scott-designed church. Following the concert, the committee were pleased to be able to make a donation of $535 to their chosen charity, Thermals 2020, which provides warm clothing for children in need in the Hastings area.
Margaret Percy is a parishioner at Our Lady of Lourdes Church, Havelock North.
---
John Scott was a New Zealand architect of the 20th century, known for his unique buildings, including several churches, which incorporated ideas from Māori and cultural architecture. He was born in Haumoana on the coast near Hastings and was educated at St John's College where he was head prefect. He joined the Air Force and learnt to fly towards the end of the Second World War. He went to the Auckland School of Architecture from 1946 to 1949 and part time in 1950, and returned to Haumoana before eventually setting out in his own practice.