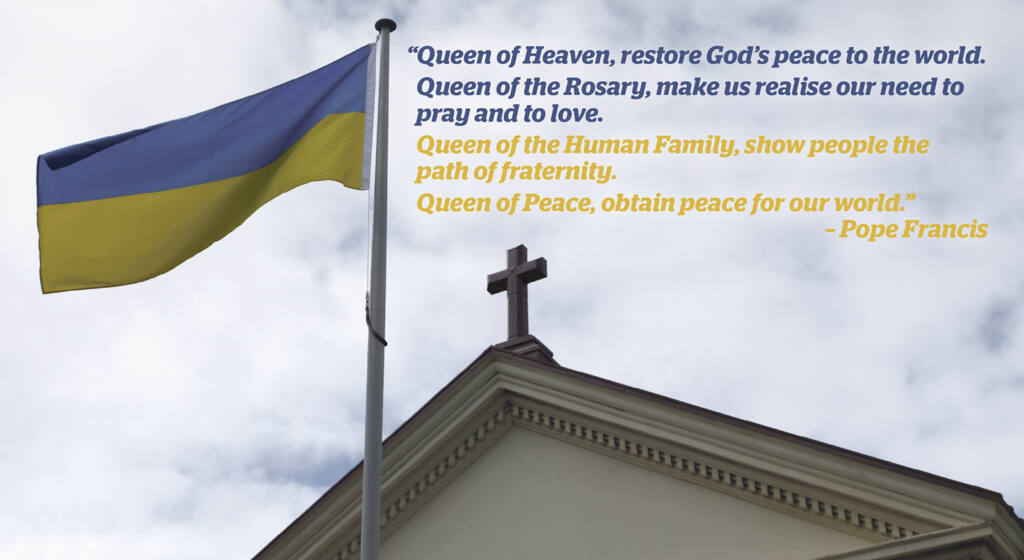 WelCom April 2022
Catholics in Aotearoa New Zealand joined Pope Francis and the universal church in a day of prayer for peace in Ukraine.
On 25 March, the Solemnity of the Annunciation of the Lord, Pope Francis consecrated Ukraine and Russia to the Immaculate Heart of Mary, during a service in St Peter's Basilica. New Zealand's Catholic bishops urged Catholics here to mark the day by going to their local parish church to pray the Rosary.
With Covid-19 restrictions imposing a limit of 100, people were urged to visit their local church throughout the day. Churches were open from 7am to 7pm. The bishops of New Zealand visited their respective cathedrals to pray the Rosary in support of Pope Francis.
Bishop Stephen Lowe, the Bishop of Auckland and Secretary of the New Zealand Catholic Bishops Conference, said the day of prayer was a show of solidarity with everyone affected by the war – those wounded and killed, those caring for the wounded and those who have suddenly become refugees. He said the prayers were also 'that the Russian leadership and soldiers may have a change of heart'.
'This is the season of Lent, which is about the change, the conversion of the heart. Christ calls us to love our enemies and to embrace each other as brothers and sisters. And as we pray for Ukraine we also remember those caught in other conflicts, including Yemen, Syria, South Sudan, Afghanistan, Libya and elsewhere.'
The Church's National Liturgy Office sent materials to parishes especially for the prayer day for peace in Ukraine.
---
Pope speaks with Zelensky again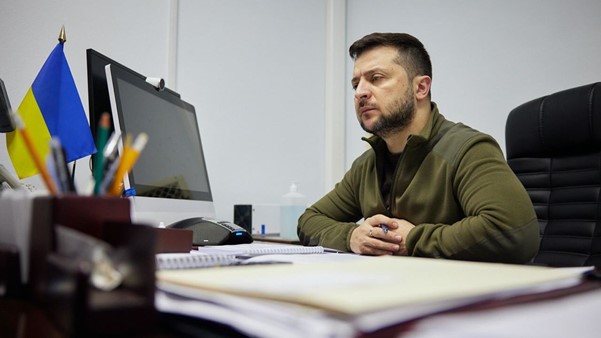 On March 22, Pope Francis spoke for a second time by phone with Ukraine President Volodymyr Zelensky, who said he would welcome a Vatican mediation to bring about an end to the Russian invasion against the country.
President Zelensky said he discussed the 'difficult humanitarian situation and the blocking of rescue corridors by Russian troops.'
He said Ukraine would welcome a mediation from the Holy See to help end the conflict: 'The mediating role of the Holy See in ending human suffering would be appreciated' and he thanked the Pope 'for the prayers for Ukraine and peace.' The Vatican has offered to mediate on numerous occasions, though Russia has yet to express interest in such an option.
The president said Pope Francis told him: 'I understand that you desire peace. I understand that you must defend yourselves, soldiers and civilians defend their country, each one defends.'
'And I responded,' Zelensky recalled, that 'our people have become the army, [they became] the army when they saw the evil their enemy does, what devastation it has left.'
President Zelensky called for global rallies to stand with Ukraine on March 24, exactly one month after Russia first invaded his country. Addressing the world, he repeated, 'The world must stop the war' asking for further demonstrations of solidarity.
'We know regular people around the world can hear us, can understand us better than any politician,' he said. 'Politicians always follow people, so please speak up, I beg you to speak about Ukraine, go to the main squares of your cities. Support us, show your strong position, show your support to Ukraine.' He added, 'We all are people of this world. We should be together, we should be strong, and show solidarity.'