WelCom August 2021
Andrew Austin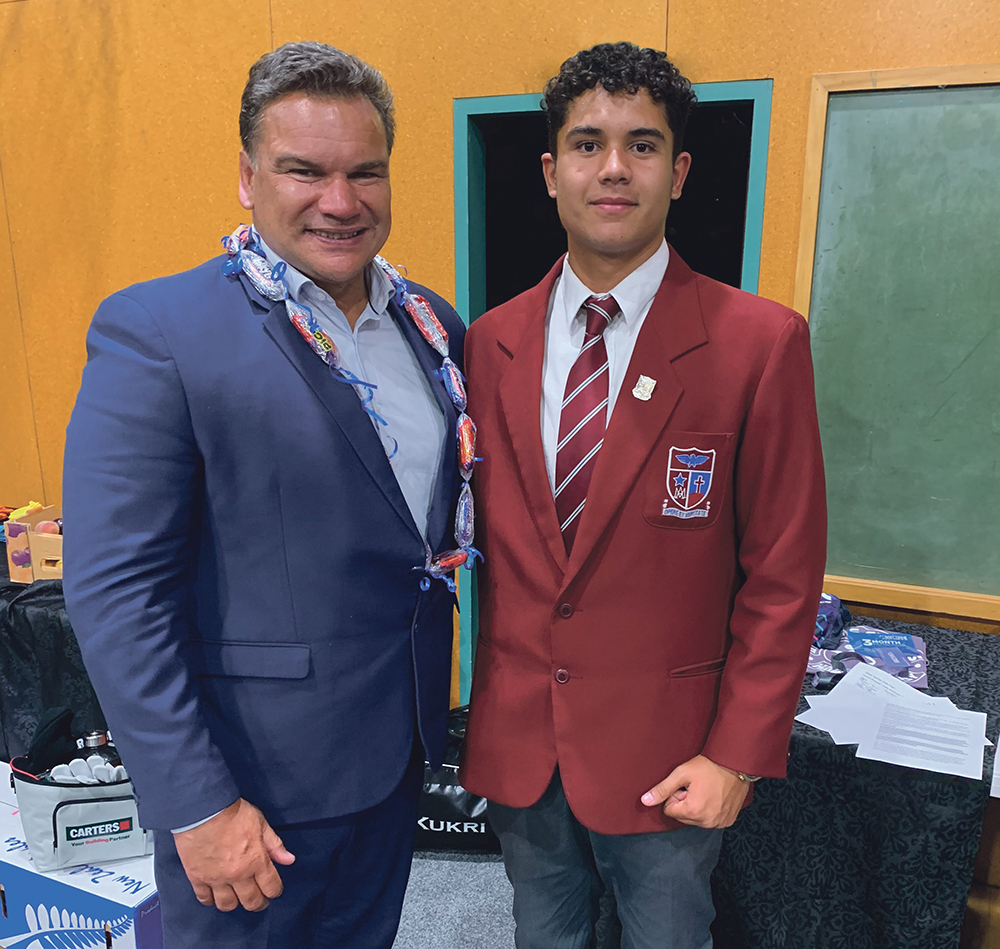 Seeing Sir Michael Jones in person and having the opportunity to meet him will be something boys at St John's College will be unlikely to forget. Sir Michael's words of wisdom and encouragement at a recent fundraiser for the school's rugby foundation, will stay with the budding rugby players, and the school community for years to come.
A night with Sir Michael Jones, sponsored by Simkin Construction, inspired each of the boys to be their best both on and off the field.
St John's College Director of Rugby and First XV Head Coach Matt Wyatt thanked Sir Michael for giving up his time to speak, and for his input into the lives of their boys.
Year 13 and second five-eighths Jaden Murphy said he was humbled to have the privilege to meet Sir Michael, as he hopes to one day pursue a rugby career.
'It was very inspiring, particularly to hear how he came from humble beginnings and where he has ended up,' the 17-year-old said. 'But also, just to see how real he seemed and how he wanted to connect and to genuinely get to know every individual.'
Jaden said he was honoured to be able to lead the haka pōwhiri to welcome the rugby great. The college's Pasifika Group also performed. 'The boys took a lot of pride in being able to perform their piece in front of him and their families and the wider audience.'
The main piece of advice Jaden took from Sir Michael's korero was it doesn't matter where you come from but that you must hold onto your morals and beliefs and put those before everything else.
'That's something he has done throughout his life and career. He held his morals, his religion, Catholic beliefs and culture above all,' said Jaden.
Sir Michael played 55 tests for the All Blacks from 1987 to 1998 and was a member of the team that won the inaugural Rugby World Cup in 1987. His strong Christian beliefs saw him refuse to play rugby on a Sunday and he is widely regarded as one of the greatest All Blacks.
In front of the packed-out hall, the team ask Sir Michael questions, including about his career, his advice on rugby and life balance, as well as some light-hearted questions.
'He gave us a lot of insight into his life,' Jaden said.
Sir Michael said it was 'such a privilege' to be involved. 'I was hugely impressed with everything about SJC, in particular the amazing "village" around the boys there and the boys themselves of course! They are a credit to the incredible work by Matt, Luke, Sam, Rochelle and all those who are involved.
'I'm so pleased the funds raised will meet the immediate needs particularly with regards boots and that awesome trip south. The boys will never forget that wonderful experience… I never forget mine, treasured memories with my mates and coaches I idolised.'