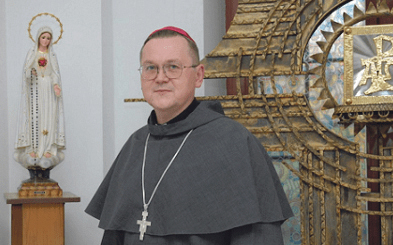 WelCom November 2020
The first Russian-born Catholic bishop since the start of the Soviet era says he prefers to speak of challenges facing the minority Catholic Church rather than problems.
'Being a relatively small community, the Catholic Church in Russia is challenged with making a positive, constructive contribution as an integral part of society,' says Bishop Nikolai Dubinin.
The Catholic Church, currently making up less than half a per cent of Russia's population of 144.5 million, was savagely repressed under Soviet rule in 1917–1991, losing almost all its clergy and churches.
'As a result of Soviet-era persecution, our Church was virtually destroyed, so clergy from different countries came here to help,' says Bishop Dubinin. 'But it's taken almost 30 years, among native Russians who grew up in our local Church and took the path of priestly ministry, for a local bishop to be chosen.'
Although he's the first Russian-born Catholic bishop in 100 years, Dubinin explains there were many before the 1917 revolution. 'I'm the first and only one in the Church's recent history,' the 47-year says.
As the country's first auxiliary bishop, Dubinin will serve northwestern areas of the Moscow-based Mother of God Archdiocese, where he previously taught at the Church's seminary. Dubinin is a Conventual Franciscan who was ordained in 2000 after training in Poland.
Sources: The Tablet, Asia News