Schools
3 July 2012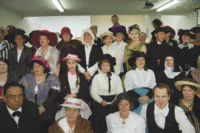 Sacred Heart College, Lower Hutt started its year of centennial celebrations in style on Friday June 15 with a special school feast day. The Lower Hutt Town Hall was transformed by symbols of the past, flowers and a sea of red with over 800 students in attendance. Staff members were into the spirit of the occasion dressed in Edwardian costumes to mark the era 1912 when the college was founded.
Archbishop John Dew celebrated Mass with Frs Ron Bennett, Bruce England, David Dowling and Pat O'Shea. There were many Sisters of Our Lady of the Missions present and the sesqui-centennial of the Sisters was also honoured by having a ship to represent the 1865 journey of Euphrasie Barbier to our shores. Each form class had also contributed beautiful flags for the bunting on the ship and around the hall.
The college choir sang and the school's symphonic band played. Three of the contributing schools, Ss Peter and Paul's Lower Hutt, St Brendan's Heretaunga and St Joseph's Upper Hutt, were represented at the Mass by Year 8 students and principals. All contributing schools are also being invited to the college's prizegiving on November 5 and many invited guests will be present at the opening of the new Performing Arts Suite on October 19. This marks the beginning of the college's centennial weekend.
Enrol on line at: www.sacredheartcollege.school.nz
Image: Some of the staff of Sacred Heart College in their foundation day costumes (1912).