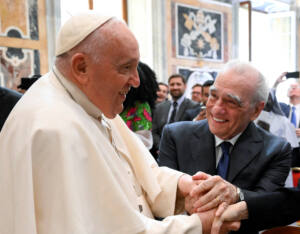 WelCom June/July 2023
Famed Hollywood film director Martin Scorsese has indicated his intention to make another film about Jesus Christ, reports suggest.
Scorsese, fresh from a rapturous reception for his movie Killers of the Flower Moon at the Cannes film festival, was recently in Italy attending a series of religious and cinematic events. Speaking at a conference at the Vatican, Scorsese, 80, said: 'I have responded to the Pope's appeal to artists in the only way I know how: by imagining and writing a screenplay for a film about Jesus.' He added: 'And I'm about to start making it.'
Scorsese and his wife, Helen Morris, were in Rome attending a conference entitled The Global Aesthetics of the Catholic Imagination and briefly met Pope Francis.
Antonio Spadaro, editor of Jesuit publication La Civiltà Cattolica, who co-organised the conference, reported on its website that Scorsese had mixed references to his films with personal anecdotes, as well as explaining 'how the Holy Father's appeal "to let us see Jesus" moved him'.
It is believed Scorsese reiterated his passion for Pier Paolo Pasolini's The Gospel According to St Matthew during the conference, as well as discussing his own works including 1988's The Last Temptation of Christ as well as Silence, about the persecution of Jesuit Christians in 17th-century Japan.
In 2016, Scorsese screened Silence in Rome and had a first meeting with Pope Francis, who himself joined the Jesuits in the hope of becoming a missionary in Japan.
The encounter marked a thawing in relations between the Vatican and cinema's most acclaimed mainstream Catholic director, who himself considered joining the priesthood as a boy.
In 1988, The Last Temptation of Christ angered many conservative Catholics for its depiction of Jesus, played by Willem Dafoe, as a man torn between God and earthly pleasures.